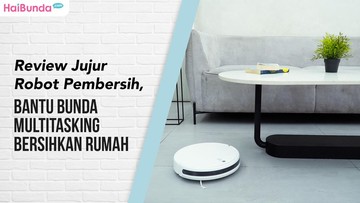 HaiBunda |
Haibunda

Wednesday, Jul 13 2022 20:12 WIB
Cleaning the house is one of the jobs that is quite time consuming, yes, Mother. Especially if you don't use ART services, aka household assistants. In the morning Mother has to wash dirty dishes, sweep, and mop the floor. In addition to cleaning the house, maybe Mother also has to prepare food and also take care of work.
Well, Bubun has tips to help you, here. To be more practical in sweeping and mopping floors, you can use the Robot Vacuum-Mop 2 Lite from Xiaomi. This robot cleaning tool is equipped with a sensor camera that can detect dust and dirt on the floor of your mother's house. With a battery capacity of 2600 mAh, the suction power is strong and durable enough to clean any room at home. Mom, I've tried it, you can see the honest review in the following video!

Share yuk, Bun!