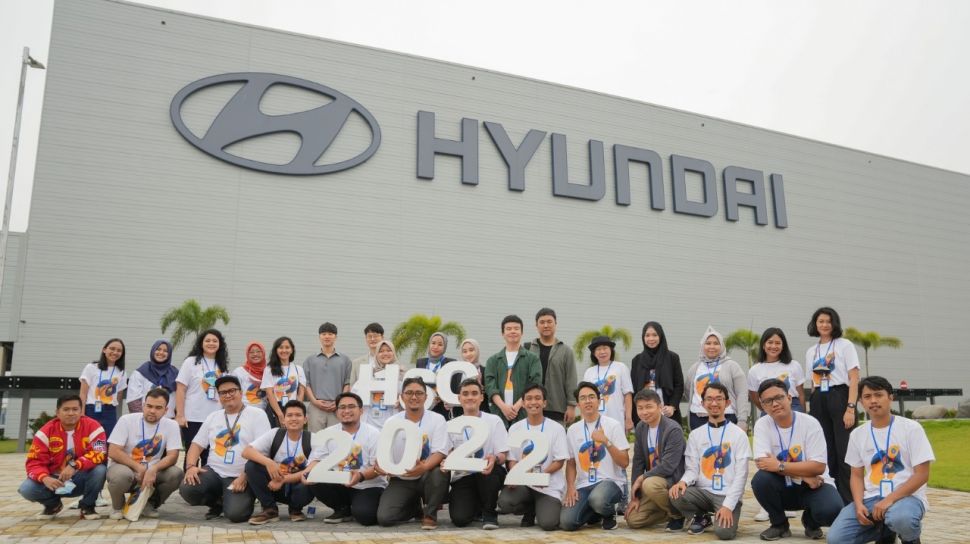 Suara.com – Following the announcement of the 15 selected social enterprises for the Hyundai Start-up Challenge Indonesia 2022 (HSC 2022) on June 6, Hyundai Motor Group invited them to join the Kick-off Program and visit Hyundai Motor Manufacturing Indonesia.
The 15 social enterprises, represented by C-level executives, departed from their cities to Harper Hotel Cikarang for a three-day agenda from 16 June to 18 June 2022.
On the first day, June 16, 2022, these social entrepreneurs attended a System Change Builder workshop facilitated by the Intellar team, HSC 2022 implementation partner. In this workshop, they were encouraged to know themselves better and their goals. Then, they were also invited to undergo what is called speed connecting together with other social entrepreneurs who were present at the event.
Interestingly, they were also asked to visualize what they were thinking by drawing. This session opened the opportunity for 15 social enterprises to get to know each other better, understand the goals and important challenges of today, and explore potential collaborations between them.
Also Read:
Hyundai Stargazer Will Be Equipped with Bluelink Technology like in Creta
On the second day, 15 social entrepreneurs left for Hyundai Motor Manufacturing Indonesia with representatives from Hyundai Motor Group and MYSC from South Korea, Intellar, and the two previous HSC winners. To open the event, Hyundai Motor Group's Vice President Corporate Responsibility Team Byung-hoon Lee greeted them through a pre-recorded video.
"This year's Hyundai Start-up Challenge received a total of 826 applications with a competitive ratio of 55 applications to 1 participant. All of you representing these 15 teams truly deserve recognition for making it here. The COVID-19 challenges are formidable, but we at Hyundai Motor Group have been working hard to create a bigger impact with our initiatives in Indonesia. We will continue to thrive to solve pressing problems in this wonderful country with the aim of supporting your dreams and aspirations. The Hyundai Start-up Challenge is a very important project to create a better society together with social startups. I sincerely hope that all of your enthusiasm and creativity will be a stepping stone to progress in your personal development and teamwork. We will continue to support you and Indonesia through quality work, education and a commitment to sustainable growth," said Byung-hoon Lee.
"Through the Hyundai Start-up Challenge, we want to give enthusiasm and innovative support to all fellow startup CEOs. And we also hope that this support can have a positive impact on the people of Indonesia. I hope this event can provide an opportunity for all of you to understand Hyundai Motor's vision and become HSC Fellow members," added Myung Sub Kim, Head of Group Business Administration for Hyundai Motor Manufacturing Indonesia and greeted 15 social entrepreneurs.
This event was also attended by the Deputy Chair of the Digital Economy and Creative Products of the Ministry of Tourism and Creative Economy of the Republic of Indonesia Muhammad Neil El Himam.
"Congratulations to the 15 social enterprises, and thank you to Hyundai Motor Asia Pacific for organizing this event to support government programs in achieving digital transformation goals. We hope that collaborations and partnerships can be carried out to strengthen the digital ecosystem. All stakeholders can work together, synergize and support efforts to accelerate digital transformation in Indonesia and the Asia Pacific region," said Muhammad Neil El Himam.
Also Read:
Bluelink Technology Embedded in Hyundai Stargazer, Can Send Location Data When Vehicle Is Stolen
After the remarks from each party, 15 social entrepreneurs had the opportunity to pitch for three minutes in English to introduce their social enterprises to the participants, highlighting the mission and social impact of their social enterprises.