Suara.com – The PSSI Disciplinary Committee (Komdis) has completed an investigation into the incident of the death of two supporters (Bobotoh) during the Persib Bandung and Persebaya Surabaya matches in the 2022 Presidential Cup continued at the Gelora Bandung Lautan Api Stadium (GBLA) on (17/6/2022).
Several findings were obtained by the PSSI Komdis such as the advantages and disadvantages of the Persib Bandung Match Organizing Committee (Panpel) running a match.
As is known, two Bobotohs had to lose their lives due to overcrowding. This is because many spectators do not have tickets to enter the stadium.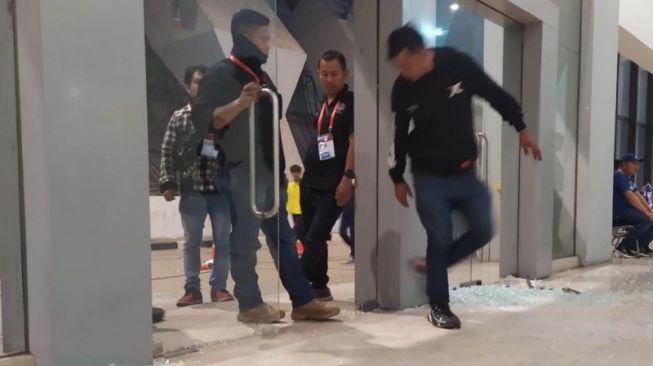 "So the investigation team has carried out its duties. The points above must be followed up," said Erwin Tobing as chairman of the PSSI Komdis in his official statement.
Also Read:
Shin Tae-yong Wants Indonesian National Team to Face a Strong Team on FIFA Matchday
Erwin also agreed that the remaining matches of the Group C President's Cup would be moved to Si Jalak Harupat Stadium, Soreang, Bandung Regency, without spectators present.
In the near future, the PSSI Komdis will conduct a trial to make a decision on the incident at GBLA. Because, it takes time to implement the decision.
"Yes, just wait for the decision. If there is a decision, we will definitely convey it to the public," Erwin added.
According to Erwin Tobing, there are several points resulting from this investigation. Here's the description
I. Advantages of the Local Implementing Committee:
Also Read:
Investigation Result of the Death of Two Bobotoh, PSSI Ketum: GBLA Not Ready to Hold Matches with Spectators
a. Security coordination has been carried out properly with the security forces before the match.
b. Prepare 4 (four) ambulances in 2 (two) units of stadium and 2 (two) units outside the stadium.
c. Provide a resting place/tent and portable MCK for supporters of the visiting team from Persebaya.
d. Provide food for supporters of Persebaya.
e. Make appeals to the supporters of the Persib home team about online tickets.
f. Provide a wide screen outside the stadium as much as 4 (four points).
g. Print tickets according to the terms agreed with the security forces, namely 15,066 tickets from -/+ 38,000 stadium capacity.
h. Providing a place to watch for supporters of the visiting Persebaya team with a quota of 1,500.
i. Quick anticipation of the victims of Persib's home team supporters as a result of crowding at door V by providing first aid with an ambulance and in the back up ambulance of the DOKPOL which was alerted outside the stadium.