Suara.com – Helmets are an important tool in motorcycle riding. But not a few motorists who underestimate the helmet when riding a motorcycle on the road.
Motorcyclists who do not wear helmets will be prosecuted by the police. Usually the police will stop if they see a motorist who is not wearing a helmet while driving.
But it's different from what the police did in uploading the Instagram account @lambeonlen on this one. The upload shows how the police deter motorists who don't wear helmets on the road.
Initially, two motorbikes were seen waiting for a red light at an intersection. According to the narration in the video, this incident occurred at the Boyolali Toll Exit, Central Java.
Also Read:
Central Java Police Respond to Viral Uploads of Photos About Residents of Sukoharjo ETLE Ticketed After Takziah Returns
The two motorcyclists were not wearing helmets while waiting for a red light. They also look quite santuy.
Suddenly, from behind, a man wearing an attribute that reads police came over appeared. But the man did not immediately approach them.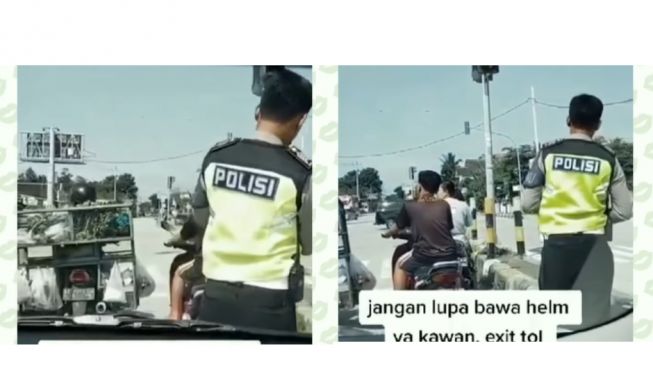 Instead, he used his cellphone camera to capture the moment from behind. The police then took pictures one by one of the motorcyclists who were not wearing helmets when they were caught on the highway.
This video also went viral on social media and received responses from netizens in the comments column. Many say that the police apply an electronic ticket system.
"The police are just taking pictures now, the photos will be entered into the tracking system whose license plate is whose motorcycle it is, what is the address, the tax is still alive or not, the way it works is the same as E-TLE, so they don't get a ticket immediately, at least there's a love letter. from the Samsat who will come to the house that has a motorbike," write @tog***
Also Read:
This Portrait of a Railroad Doorstop Confuses Passing Motorists, How come?
"E-tickets… then the mothers who wear the hijab must be thinking, but I must have been photographed earlier," beber @ang ***.
"If you use the ticket in Jakarta, it can lag, the police cell phone even though it has 8GB of RAM," celetuk @ind ***.
To see the full video, Click here!