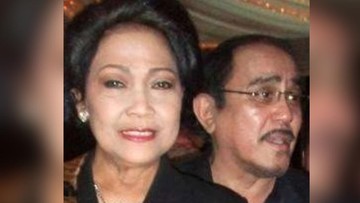 Newsdelivers.com, Insertlive –
The entertainment world in the country is again mourning the loss of an old artist, Rima Melati.
The late Rima Melati died at the age of 84 years after being treated at the hospital.
Rima Melati's departure will forever remind the public of the romantic love story with Frans Tumbuan, who had already passed away.
Rima Melati and Frans Tumbuan married in 1973. The togetherness lasted until Frans passed away first before the Almighty in 2015.
Who would have thought, it turns out that this couple has been matched since Rima Melati was 1 year old.
At first, Rima Melati and Frans Tumbuan did not realize that they had met on a ship.
Rima and Frans then meet again in the Netherlands after decades.
This meeting then began to give rise to the seeds of love between Rima and Frans.
Rima, who at that time had become a famous artist in Indonesia, often visited various countries, one of which was the Netherlands.
At that time, Frans became the owner of a restaurant in the Land of the Windmill, which Rima often visited with his fellow artists.
"Papa met Mama in the Netherlands, at that time Papa had a restaurant. So every Indonesian to the Netherlands would definitely stop by that restaurant," said Keke, Frans and Rima's 5th child. detikhot on Wednesday (23/6).
The meeting between Rima and Frans was getting more intense in the Netherlands. In fact, Frans had also followed Rima while attending an event in London, England.
This moment of meeting in England was the starting point for Frans to finally confess his love for Rima.
The relationship got more serious until finally Frans sold all his properties in the Netherlands and returned to Indonesia to marry Rima.
"After that they became friends. Mama returned to Indonesia, Papa sold everything in the Netherlands to Indonesia and married Mama," Keke closed.
(ikh/and)