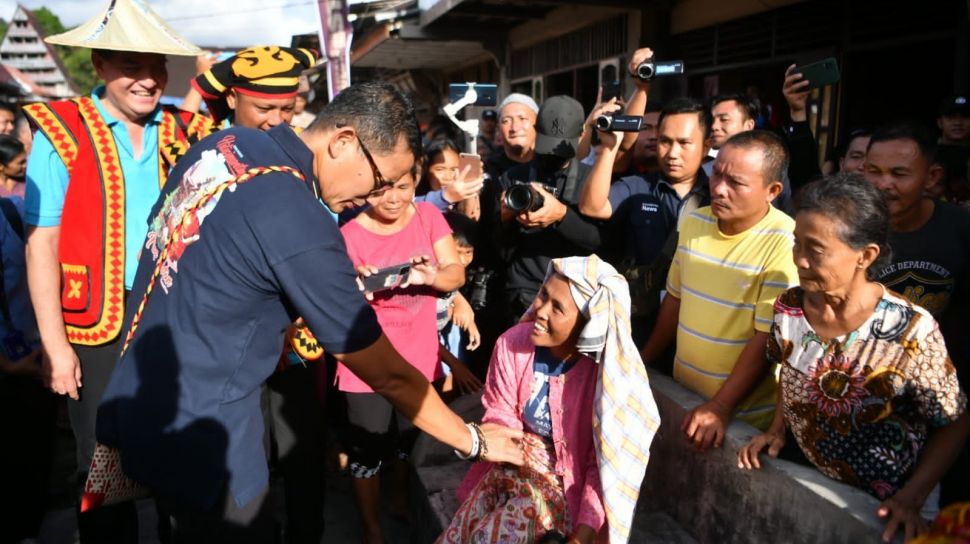 Suara.com – Minister of Tourism and Creative Economy (Menparekraf), Sandiaga Uno visited Hilisimaetano Tourism Village, Maniamolo District, South Nias Regency, North Sumatra. Sandiaga met Sitime Dachi (65), a mother who lives alone in a hut measuring 2×2 meters.
At first, Sitime, who was accompanied by the Secretary of Hilisimaetano Village, Kristiaman Dachi, told his current condition. The woman who has limited vision admitted that she often feels cold when it rains.
"I've lived here for more or less 10 years. I live alone here with the condition of the house that we see here for ourselves," said Sitime when he met Sandiaga.
"My son died, who should take care of me. So I'm here alone, Mr. Minister," continued Sitime.
Also Read:
Menparekraf Sandiaga Uno Reveals the Advantages of Tourism Villages, Increasingly Popular Amid the Covid-19 Pandemic
Seeing the conditions that showed, Sandiaga decided to help Sitime. The assistance was in the form of basic necessities and capital to buy house repair materials.
"I want to provide capital to buy materials to repair Ina's house, Mrs. Sitime so that it doesn't get cold when it rains. I ask the village secretary to do this immediately in mutual cooperation, involving the community in helping Sitime's mother," said Sandiaga.
The moment of emotion occurred after the statement of assistance was spoken by Sandiaga. Sitime spontaneously hugged Sandiaga while giving thanks and praying.
"I pray that the Minister is healthy and the Minister becomes a great leader in this country. There is no reply to the Minister, only God repays the Minister's kindness," said Sitime.
It is known that Sandiaga's visit is related to the 2022 Indonesian Tourism Village Award (ADWI) program. Hilisimaetano Tourism Village is included as the 50 best tourist villages/villages this year.
Also Read:
Sandiaga Uno Repairs the Shack of an Elderly Woman Who Lives Alone in South Nias
This activity is a collaboration with Astra. There, Sandiaga also provided assistance in the form of trash cans and hand washing facilities for
assisting Cleanliness, Health, Safety, and Environment Sustainability (CHSE) facilities for Hilisimaetano Tourism Village.
As for the Hilisimaetano Tourism Village, Fahombo is one of the main attractions. Fahombo is a tradition of stone jumping as high as approximately 2 meters. In this village from an early age, children are regularly trained to perform Fahombo with smaller stone replicas.
The tourists can also enjoy the natural scenery. Geographically, Hilisimaetano Tourism Village has an area of ​​10 hectares which is a plain with several hills.