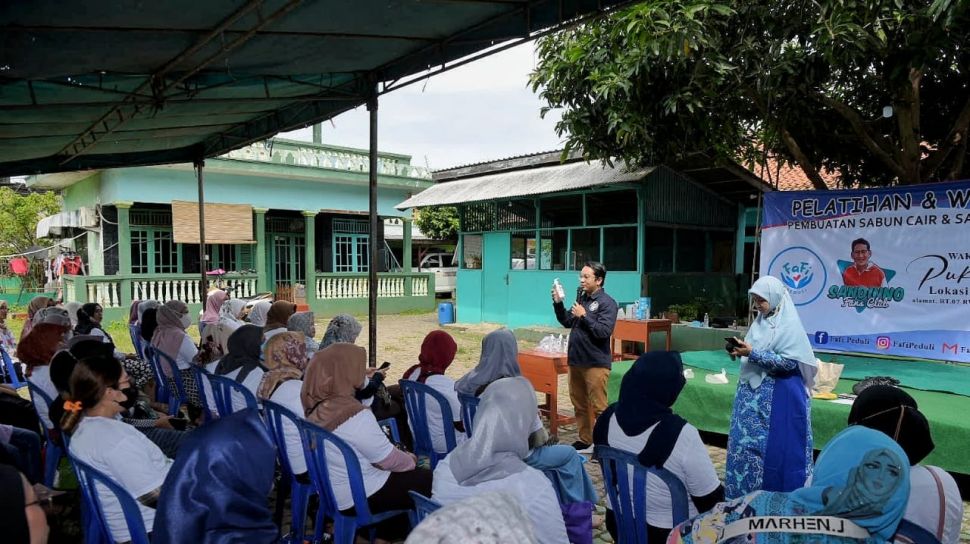 Suara.com – Sandiaga Uno volunteers who are members of the East Jakarta Sandi Uno Fans Club held a laundry soap-making training for mothers. The goal is to improve skills and create job opportunities for housewives to become entrepreneurs.
Chairman of Family and Friend (Fafi) Peduli, Faizal Fiqri said this activity was a continuation of the Sandi Uno Fans Club volunteer friends for the nomination of Mr. Sandiaga Uno in 2024. So that the training provided can add new insights and experiences to mothers who do not know how to make liquid soap independently.
"This training was carried out by the Sandi Uno Fans Club Volunteers in collaboration with Fafi Peduli. So we hope that mothers can become entrepreneurs and can open jobs in their respective regions," said Faizal at the Al-Qudwah Islamic Boarding School, Cakung, Jakarta East.
Faizal said that this training would continue. He also said that he would choose the 20 best participants who would be trained from the licensing process to branding.
Also Read:
Sandiaga Repairs Grandmother's House in South Nias
"This training does not stop here, but we will provide further training to the 20 best participants up to the licensing, packaging and branding processes. So that they are ready to become an independent entrepreneur," said Faizal.
Meanwhile, an entrepreneur named Siti Rohimah admitted that this training made her an entrepreneur. Siti hopes that Sandiaga Uno can become president in 2024.
"With this MSME training, I can practice and now have an egg business. With this I support Mr. Sandiaga Uno in 2024," said Siti.
For information, the Sandi Uno Fans Club consists of the Fafi Peduli community and mothers. They also provided basic food assistance which was distributed directly by Fafi Caring.
Also Read:
Menparekraf Sandiaga Uno Reveals the Advantages of Tourism Villages, Increasingly Popular Amid the Covid-19 Pandemic