Suara.com – A transwoman with the initial L has the status of a suspect in the case of a female student with the initial I (22) who died half-naked in a Pakubuwono Terrence apartment in Cipulir, Kebayoran Lama, South Jakarta. Referring to the police statement, L has known each other for a long time.
The South Jakarta Metro Police Chief, Kombes Budhi Herdi Susianto, said that the facts were obtained after the investigation was carried out. From the CCTV footage that was checked, victim I was seen picking up L in the apartment lobby.
"In fact, he has known the victim for a long time, it is proven that when he arrived at the location, the victim picked up the suspect in the lobby," said Budhi at the National Police Headquarters area, Monday (20/6/2022).
From the CCTV footage, continued Budhi, evidence of a warm conversation between L and I was found. Thus, the police strongly suspect that the two have known each other for a long time.
Also Read:
Transwoman becomes a suspect in the case of a half-naked student killed in the apartment, the police: something goes into the victim's buttocks
"And there it happened on CCTV that we found quite a warm conversation, so we suspect that the victim and the perpetrator are already quite acquainted," he continued.
Finding Objects Entering the Victim's Ass
Budhi said, broadly speaking, there were tissue disturbances around the victim's buttocks. However, Budhi could not explain in detail because the doctor could provide information.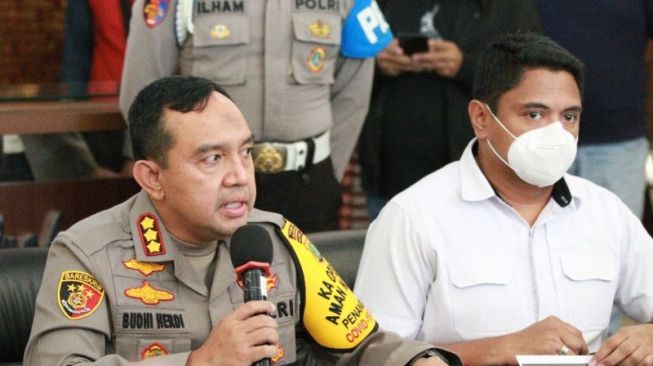 "Based on the results of the autopsy there was a tissue disorder, now this tissue disorder is of course the doctor who might explain the reason why, what is clear is the conclusion that was conveyed to us that it was suspected that the cause of death was a tissue disorder caused by the entry of objects into the victim's buttocks," said Budhi.
Budhi added that Transwoman L, who is a suspect, is the owner of a beauty salon. It is suspected that the salon often performs injection activities.
Also Read:
Student Dies Almost Nude in Pakubuwono Terrence Apartment, Police Arrest Transwoman
"So this suspect has a salon, a beauty salon, where in this salon it is often possible to carry out such activities," he continued.