Newsdelivers.com, Insertlive –
Celebrity Bella Shofie shares her experience of accompanying her son, Danillo, for circumcision.
"Alhamdulillah, today Danillo's circumcision process went smoothly, everything was really made easy for Danillo and afterwards he didn't cry, he wasn't fussy at all, just a little drama when he wanted to enter," open Bella Shofie on her Instagram.
Daniel Rigan's wife admitted that she was weak and scared when she entered the operating room to accompany her baby to do the circumcision.
"At first, Mimi was really afraid in the heart surgery room, my legs felt weak, so I didn't dare to see the full picture. But thank God, everyone was always very professional at @brawijayaantasari Hospital," he continued.
Luckily, Danillo was successfully circumcised and was certified as a brave boy.
"Get a certificate from a surgeon for a brave child @danillo_princerigan Good job, unfortunately Mimi," he added.
Not only the son who received the award, Bella Shofie also recently received a prestigious award Info Franchise dan Business Concept 2022 (IFBC) on business development skincare hers, Dabe Beaute.
"Alhamdulillah, the award is given to PT Bella Shofie Internasional because we can create job opportunities for women in Indonesia." explained Daniel Rigan, Bella Shofie's husband who was also present to accompany his wife, quoted from detikhot.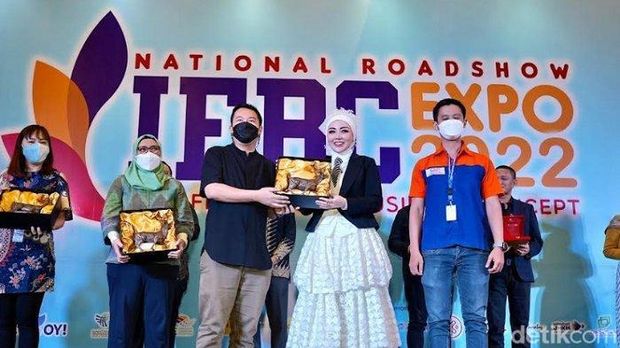 bella shofie/ Photo: Hanif Hawari
Thanks to their success, Bella Shofie and Daniel Rigan plan to distribute Rp. 200 million in working capital provided by Bank OCBC to investors. reseller small.
"We can open up more job opportunities with this assistance. We wanted to build it back then reseller large, but constrained by capital, now the presence of Bank OCBC which provides capital will increase the opportunity again," he concluded.
(dis/syf)