Suara.com – The Chairperson of the PDIP DPP, Megawati Soekarnoputeri, said that she would get five more doctorates. However, Megawati said because of the pandemic this could not be realized.
Megawati asked that her achievements could be an inspiration for PDIP cadres. Megawati made the statement when giving directions at the Coordination Meeting (Rakor) of Regional Heads/Deputy Heads at the PDIP Party School, Lenteng Agung, South Jakarta, Thursday (16/6/2022).
"Don't pat me," said Megawati after hearing the cadres' applause while laughing.
Previously, Megawati had asked the heads and deputy regional heads of the PDIP to become leaders, not just officials.
Also Read:
Always Support Figures with High Electability, NasDem Choose Anies or Ganjar for 2024 Presidential Candidates?
"Be a leader, not an official. Because officials retire, leaders don't. Hopefully they have intelligence and deep knowledge," said Megawati.
According to him, what he conveyed was not only heard but also thought by regional heads.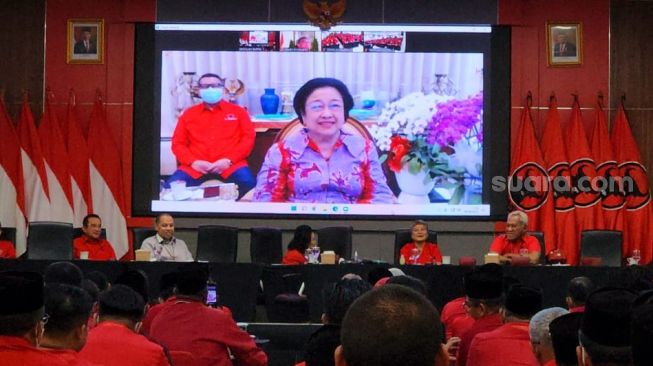 He then advised PDIP regional heads to have broad knowledge and not just one field. In fact, he said that currently the issue of geopolitics is being discussed regarding the dynamics in the international world.
"What is geopolitics? It means you have to learn. Don't just want to be a magnet for executives," he said.
The 5th President of the Republic of Indonesia asked the PDIP regional heads to continue to have enthusiasm and not be in a comfort zone.
Also Read:
Witnessed by Megawati, PDIP Regional Head Signs Promise Starting From Anti-KKN To Not Taking Advantage of Position
In addition, he asked not only to think about themselves but to think about what is the hope of the people and realize the people's lives.
In fact, Megawati asserts that she prefers few regional heads but works for the people. Not just a lot in the number of regional heads.
"I need a little but a strong one who fights for the people. Not just talking but doing. That is the struggle of the PDI-P. But if it can be big, as long as it is solid and has achievements, that is the best," he said.