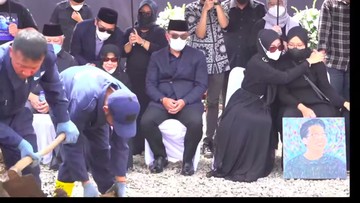 Newsdelivers.com, Insertlive –
The body of Emmeril Kahn Mumtadz alias Eril was buried at Baitul Ridwan Islamic Center, Cimaung, Bandung Regency. Eril's hearse arrived at the location at around 10.59 WIB.
The funeral procession began at 11.15 WIB, Monday (13/6). Ridwan Kamil put the first soil into Eril's grave.
After that, Ridwan Kamil sat quietly with his family accompanying the child to his final resting place. From time to time Ridwan Kamil looked pensively at the burrow.
The funeral process can only be seen closely by the family, while the residents who come to pay their respects can only watch from a distance in the tent area.
A total of four tents are in the area where Eril's burial is located. Two tents are provided for mourners with hundreds of seats available, one is specifically for the media crew, and another is specially provided for Ridwan Kamil's family near the liang lahad area.
The Head of Administration for the Head of the West Java Provincial Secretariat, Wahyu Wijaya, previously said that residents were indeed allowed to go to Eril's grave after the funeral was over because it provided space for the family.
"For the funeral, considering the limited situation and conditions at the burial site, we are focusing specifically on this funeral, especially from the family side," Wahyu said in a virtual press conference.
(yoa/fik)