Suara.com – Arsenal's midfielder, Thomas Partey, has a new name after he converted to Islam some time ago.
The news of the 28-year-old midfielder embracing Islam emerged a few days after Clarence Seedorf decided to convert to Islam.
The news was first spread on social media Twitter through an account called @TrendEPL, where in the upload, this account includes a photo of Partey holding the holy Koran.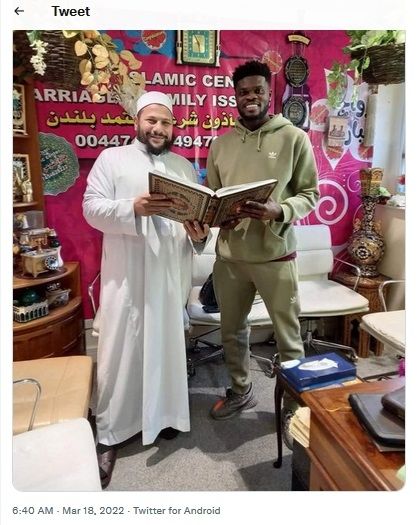 In the photo, it is known that Partey is at the Islamic Center in the city of London, which is none other than a da'wah place for Muslims in the British capital.
Also Read:
5 reasons the Indonesian national team was able to beat Jordan and the latest 4 football news
The truth about Partey's conversion to Islam has yet to be found. However, the truth was finally revealed some time later through his own mouth.
Recently, Partey admitted that he had become a Muslim, while confirming the rumors that had developed previously.
Reporting from the Daily Mail, Partey told how he became a convert. Just like Seedorf, there is a role for his wife that makes this player from Ghana convert.
Apart from his wife, Partey is also inspired by his Muslim environment. This is what later made him steady as a convert.
Because he has become a convert, Partey also has a Muslim name, namely Yakubu.
Also Read:
5 Indonesian National Team Players Predicted to Be Difficult for Jordan
"I grew up with Muslims so in the end it's the same thing. I am married and my Muslim name is Yakubu," Partey said.