Suara.com – Police uncovered the motives of a pair of lovers who are suspects in the murder case of Bayu Samudera (19) whose body was found full of cuts on the face near the Tangerang-Merak toll road access, Karang Tengah, Tangerang City. It was revealed that the motive of the woman with the initials DF (18) was determined to kill Bayu because she was hurt because she was often invited to have sex.
In this case, the police also arrested FR, DF's lover who was involved in planning the murder of Bayu,
The Head of Public Relations of the Polda Metro Jaya Kombes Endra Zulpan said that because he was often invited to have sex, DF was furious and asked his girlfriend to kill the victim. It is known that the victim is a former suspect of DF.
"This victim often contacts the suspect DF asking him to have sex. So that then irritates the suspect," said Zulpan at Polda Metro Jaya, Jakarta, Friday (3/6/2022).
Also Read:
The seconds Suherlan was killed, axed at a liquor party, sacked and then thrown away
Feeling annoyed, said Zulpan, the suspect DF then told the suspect FR. Furthermore, FR, who was burning with emotion, devised a strategy with DF to kill the victim's life.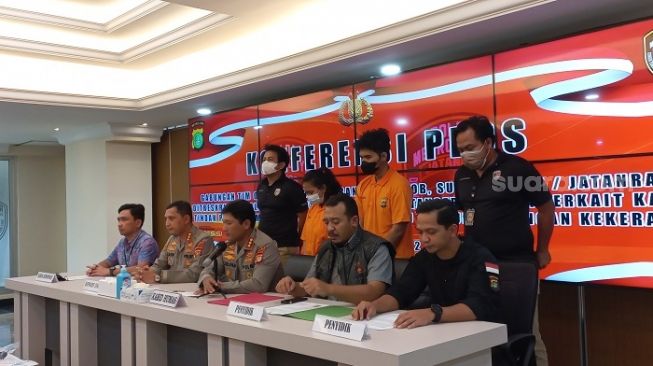 "Then the suspect FR asked the suspect DF to contact the victim by fishing phone so that a meeting was held," he said.
Long story short, continued Zulpan, the suspect DF and the victim held a meeting. On the way, the suspect FR who had been waiting, sprayed the liquid carbu cleaner to the victim's face.
"While the victim was cleaning his face, the suspect FR immediately took a hammer or hammer and then hit the back of the nutmeg three times," he said.
Threatened with Death Penalty
Also Read:
Dead Body Wrapped in Sack in Legok Lake: Grandpa Suherlan Killed After Watching a Porn Film, The Killer Had an Alcohol Party
In addition to committing the murder, Zulpan said that the suspect FR also took away the victim's motorbike, wallet and cellphone. Thus, investigators suspect the two suspects under Article 340 and/or Article 365 Paragraph 3 Juncto Article 339 of the Criminal Code.