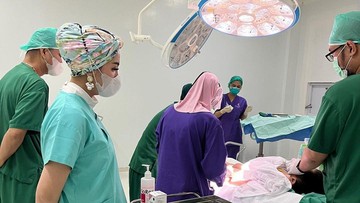 Newsdelivers.com, Insertlive –
Bella Shofie recently shared a new upload on her personal Instagram page.
The post shows the moment when Bella and her husband took their child to the hospital for a circumcision.
Bella told me that the child was not fussy when it came to circumcision.
Bella was relieved when the child was finally able to complete the circumcision surgically.
"Oh my God, I'm really relieved Mimi feels like Danillo has left the operating room after the circumcision," Bella said on Instagram quoted on Friday (3/6).
Bella admitted that she was nervous to see the operation process. Bella then forced herself to enter the operating room and accompany the baby.
"At least Mimi can't see her heart beating in a cold sweat, but Mimi is forced to enter the operating room to accompany her.," he continued.
Bella's child's circumcision operation went smoothly. The child has now been brought by Bella back home.
This moment can be seen from Bella's upload of the moment that came out while holding her child in a wheelchair.
Bella hopes that her son's surgical wound will heal soon.
In addition, Bella also hopes that the child will not do a lot of drama during the healing process.
"Now just waiting for the healing, hopefully there won't be much Danillo dramasaid Bella.
(ikh/fik)