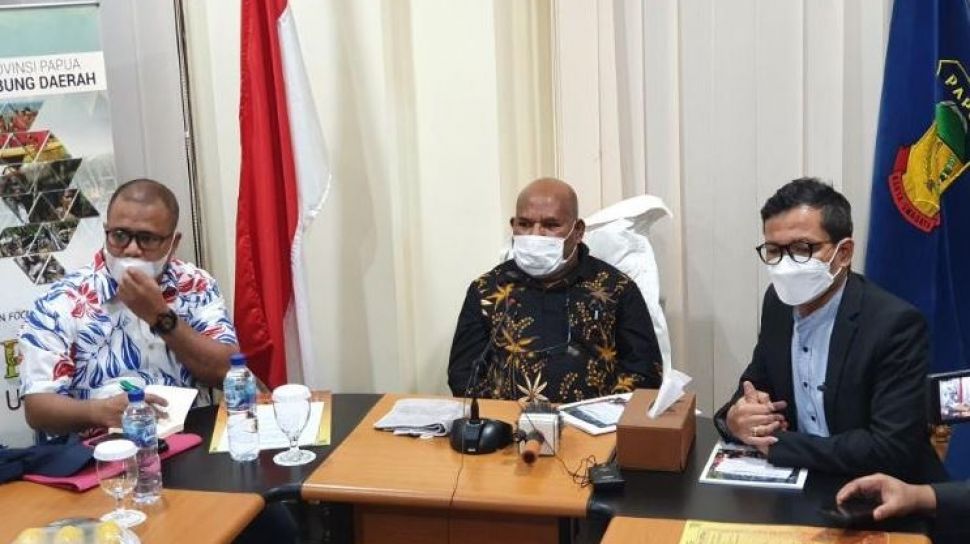 Suara.com – The Governor of Papua, Lukas Enembe, was furious because there were so many slanderous and hoax attacks against him because he often contradicted the central government's policy on development in Papua.
Enembe asserted that as a regional head, he only channeled the aspirations of the majority of indigenous Papuans who defend Papuan land from development by the central government which does not prioritize the interests of the people.
"I'm probably the only governor from 34 provinces who has experienced extraordinary intimidation and terror, wherever I go there must be massive hoax news from groups that spread hoaxes and it concerns the government and my personal movement as a human being," said Enembe when met at the Papua Province Liaison Office, South Jakarta, Friday (27/5/2022).
He denied that there was a group of people who doubted their nationalism because they have served for the Republic of Indonesia for more than 20 years.
Also Read:
Often Criticizes Central Government, Papua Governor Lukas Enembe Admits He is Often Terrorized
"I have absolutely no freedom as a regional head and the people of Indonesia, as if I was in a properly monitored aquarium, even though I have served 20 years for the Republic of Indonesia, became deputy regent, regent, and governor, and all development is carried out in the name of Indonesia. ," he insisted.
Enembe also denied that he often criticized or had different views with the central government because of his interests with the Free Papua organization.
"Why should I doubt my nationalism, I was born in an area where there was no turmoil from the Free Papua organization, from a village in Tolikara, I feel that the accusations made are very naive and inappropriate to say I am not a nationalist," he said.
Previously reported, Lukas Enembe asked the government to stop the gold mining plan in the Wabu Block, Intan Jaya, Papua. The pressure was conveyed because the indigenous Papuan community rejected the plan.
Enembe said that many people were afraid of losing their customary land because it was included in the Wabu Block mining plan map.
Also Read:
Papua Governor Lukas Enembe Urges Central Government to Stop Gold Mining Plans in Wabu Block
"I also received reports from Intan Jaya residents who were worried about losing their customary land. Reasonable. Papuans are gardening. The economy is people like Mohammad Hatta, the proclaimer of the Republic of Indonesia whom I respect and once exiled to Boven Digoel, Papua. Even though I only have one more year in office, I will try to protect the land of Papua," said Enembe when met at the Papua Province Liaison Office, South Jakarta on Friday (27/5/2022).