Suara.com – Artist Nadine Chandrawinata has been praised for her simplicity in raising her child, Nadi Djiwa Anggara. How not, he passed on the clothes and toys he wore when he was a child.
Nadine Chandrawinata shared her daughter's moment wearing her old clothes. The classic impression also accompanies your little one's make-up with old-school items that are still well-maintained.
"Djiwa, oma saved all of your mother's things for you before you were born, later you will continue these little memories," wrote Nadine Chandrawinata in the photo caption, quoted Tuesday (24/5/2022).
According to him, the mother deliberately kept all her belongings as a child. It is intended that Nadine Chandrawinata and her child continue the same habit.
Also Read:
KKN in Dancer Village Passes 7 Million Viewers, Nania Yusuf Becomes A Muslimah Again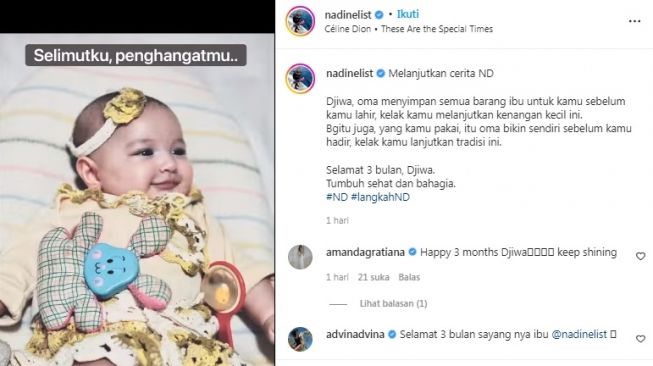 "It's the same with what you wear, Grandma made it yourself before you came, later you will continue this tradition," he continued.
Finally, Dimas Anggara's wife congratulated her daughter. He hoped that Djiwa would grow up healthy and happy.
"Happy three months, Djiwa. Grow up healthy and happy," he said.
The upload of Dimas Anggara's wife also received praise from netizens. Many applaud the grace of his grandmother Djiwa and the simplicity that was passed down in Nadine Chandrawinata's family.
"When other artists show off branded goods, they even wear handmade clothes. Kudos," commented @vivitandarini.
Also Read:
Nadine Chandrawinata's daughter is baptized, Dimas Anggara's family also attends
"All the things from his mother are durable. Wow, good," said @sabrinanurmuhlisa chimed in.
"Very simple, love this family," added @tikaa_dindaa.