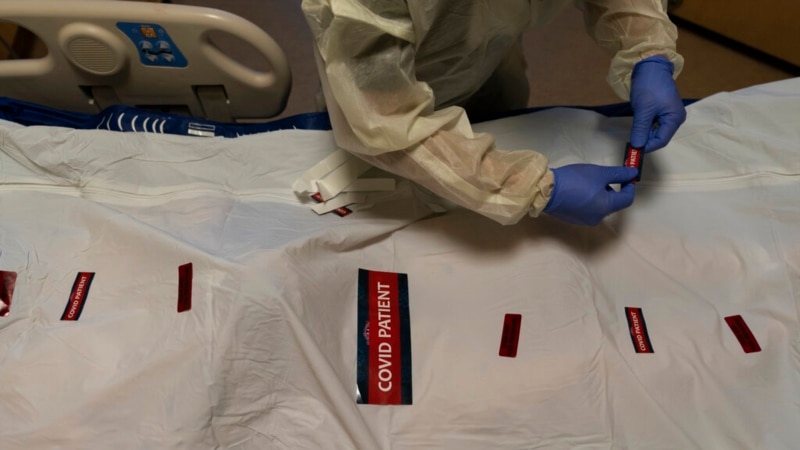 In the United States the number of deaths from COVID-19 reached 1 million on Monday, a once unimaginable figure that has shocked and saddened thousands of people who have lost their loved ones.
The confirmed death toll from COVID is equal to the number of Americans who lost their lives during the Civil War and World War II combined. It is as if Boston and Pittsburgh were being exterminated.
"It's hard to imagine a million people missing from this earth." said Jennifer Nuzzo, who runs a new pandemic center at Brown University School of Public Health in Providence, Rhode Island. "This is still happening and we are letting it happen."
Many people who have lost loved ones say they can not return to normal. They listen to the recorded voices of their lost people or watch movies with them. When other people say they're done with the virus, they're filled with anger or grief in silence.
"Normality. I hate that wordSays 55-year-old Julie Wallace from Elyria, Ohio, who lost her husband to COVID-19 in 2020. "We can never go back to normal."
Three out of every four deaths were recorded in the age group 65 and older. More men lost their lives than women. In general, most of the dead were white. But colored populations, Hispanics and Indigenous peoples were approximately twice as likely to die from COVID-19 than the white population.
Most of the deaths occurred in urban areas, but rural areas that were against masks in some cases pay a high price.
The number of deaths, from the outbreak of the pandemic to the present, is based on data from death certificates collected by the National Center for Health Statistics of the Centers for Disease Control and Prevention, CDC.
But the exact number of lives lost by COVID-19, directly or indirectly, as a result of the overcrowding of the healthcare system in the richest country in the world, is believed to be much higher.
The United States has the highest number of deaths reported by COVID-19 than any other country, although health experts have long expressed doubts that the real death toll in countries like India, Brazil and Russia is higher than official figures. .
This milestone comes just over three months since the United States recorded 900,000 deaths. The pace has slowed since the huge winter increase caused by the Omicron variant.
On average in the United States about 300 people lose their lives from COVID-19, compared to 3,400 per day during January 2021.
Meanwhile new cases are increasing again, an increase of more than 60% over the last two weeks to an average of around 86,000 per day. The highest level of infections reached during the winter period with over 800,000 per day.
One week ago, the Washington National Cathedral rang the bell 1,000 times, once for every 1,000 deaths. President Joe Biden on Thursday ordered flags to be lowered to half-mast, calling every life "an irreplaceable loss."
"As a nation, we should not be overwhelmed by such grief. "To be healed, we must preserve them in our memory." said President Biden.
More than half of the deaths occurred after the vaccine was released in December 2020. Two-thirds of Americans are fully vaccinated and nearly half of them have received at least one booster dose. But demand has plummeted and the vaccination campaign has been hit hard by misinformation, mistrust and political polarization.
Unvaccinated people have a 10 times higher risk of dying from COVID-19 than fully vaccinated, according to data from the CDC.