Suara.com – Dul Jaelani officially introduced his latest project on the Indonesian music stage with the band Qodir.
According to the youngest son of Ahmad Dhani and Maia Estianty, Qodir is his old band, formerly known as Backdoor. The band stepped aside from the entertainment scene in 2016.
"Continue to start recording again in 2021," said Dul Jaelani in a press conference session in the SCBD area, Jakarta, Monday (16/5/2022).
Along with the introduction of the band Qodir, Dul Jaelani also announced their debut album titled A Thousand Months. This 21-year-old man said that his identity as a rock music connoisseur was really contained in the project with Qodir.
Also Read:
Mulan Jameela is surprised to meet Maia Estianty, Al Ghazali: Not really relieved
"For me, this is very special, because it is very different from my other songs. If my song was solo yesterday, it's pop, right, because there are industrial demands. If this album is more rock, because we like it, it's better like that, "said Dul Jaelani.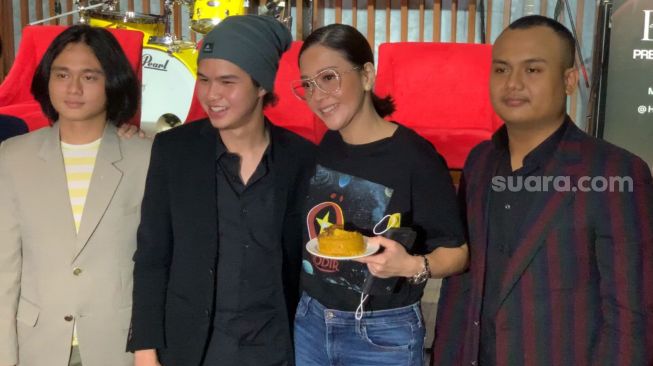 Regarding the choice of the name Seribu Bulan, Dul Jaelani admitted that he was inspired by the various colors of music in Qodir's debut album. Among them such as grunge, psychedelic and alternative rock.
"It's really Islamic, right, so we think it's connected to our music. Incidentally, this album has a lot of themes, so we agreed on a Thousand Months," said Tissa Biani's lover.
It was even more special for Dul Jaelani because he was accompanied by his mother, Maia Estianty, who was present to enliven the launch of the band Qodir and his album.
To her son, Maia Estianty has high hopes that one day she will be able to follow in the footsteps of Ahmad Dhani as a great musician in the country.
Also Read:
Al Ghazali is grateful that Mulan Jameela and Maia Estianty are able to sit at the same table
"The important thing is that he can convey his idealism. Hopefully he can be legendary," said the 46-year-old woman.
Besides Dul Jaelani, the band Qodir is fronted by three other personnel, namely Muhammad Xaviar, Deriel Sudiro, and Axel CB.