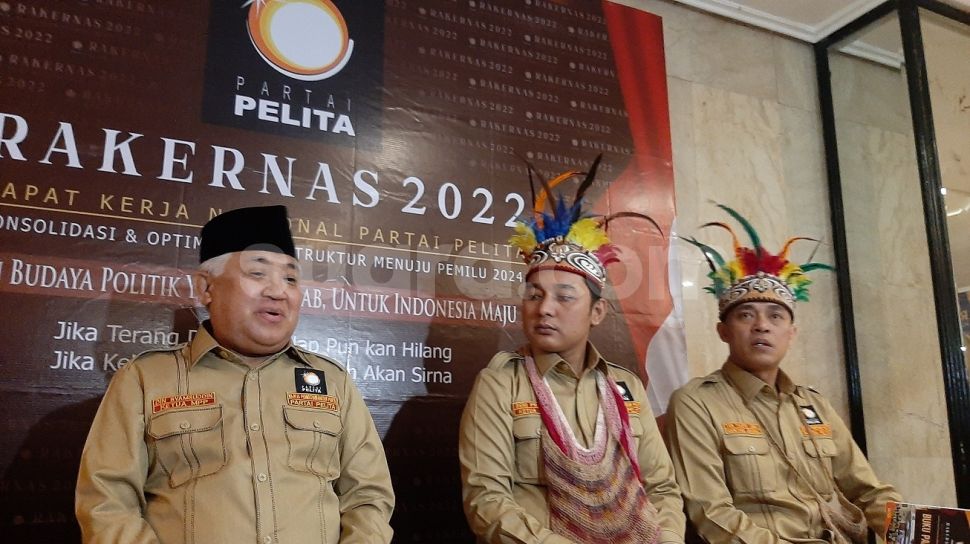 Suara.com – The chairman of the Party Consultative Assembly (MPP) of the Pelita Party, Din Syamsuddin, said that former TNI Commander General (Ret.) Gatot Nurmantyo was a candidate who entered the qualifications for the presidential candidate (Capres) 2024.
However, Din said, the Pelita Party is currently still focusing on verification to qualify as a participant in the 2024 General Election. So he said he has not been able to carry or support the presidential candidate in 2024.
"I think Pak Gatot is good, qualified, but we cannot say that he is the presidential candidate from the Pelita Party. Because again, we apologize, our focus is verification," said Din on the sidelines of the Pelita Party National Working Meeting at the Mercure Hotel, Ancol, Jakarta, Monday (16/5/2022).
The former MUI chairman said his party would think about a presidential or vice presidential candidate after being declared to have passed verification as a political party.
Also Read:
Head of the Pelita Party: Born from the womb of a Muhammadiyah figure, this party is inclusive from various circles
"After being declared candidates for the election, we may think differently later," he said.
In addition, Din said that related to presidential candidates, his party will also recruit national figures who enter the survey or figures who meet the requirements as presidential or vice presidential candidates.
Din said, when the time comes, the Pelita Party will encourage the DPP to hold a presidential and vice presidential candidate convention.
"We will collect national figures circulating out there, both those who have entered the survey and those who have not, who meet the requirements as presidential and vice presidential candidates. Maybe in time MPP will encourage the DPP to hold a kind of convention, a kind of selection, we will invite everyone," he said.
The national figures circulating in the survey, said Din, could potentially be supported by the Pelita Party.
Also Read:
Says there was no intention of Nyapres, Din Syamsuddin: President's advisor is more appropriate
"So that many national figures whose names have been circulated outside, may be supported by the Pelita Party," he said.