Suara.com – Farhat Abbas is not only busy taking care of his client, Doddy Sudrajat, regarding the rights of Gala Sky Andriansyah's guardian. But also to Fuji and Tariq Halilintar's relationship.
The togetherness of Fuji and Tariq Halilintar, which Farhat Abbas considered too busy, made the lawyer want to report the couple.
"Minors go to Singapore, Bali. This disturbs Mr. Doddy's eyes," said Farhat Abbas when met in the Cinere area, Depok on Friday (13/5/2022).
Through his attorney, Doddy Sudrajat does not want his grandson, Gala Sky Andriansyah to be treated by Fuji. Because his behavior is considered a show of intimacy.
Also Read:
It's Hot Again, It's Doddy Sudrajat's Turn To Feel Cheated By Haji Faisal About The Guardian's Rights Of Gala Sky
"Pak Doddy doesn't want to, his grandson is being cared for by his aunt who is busy dating," said Farhat Abbas.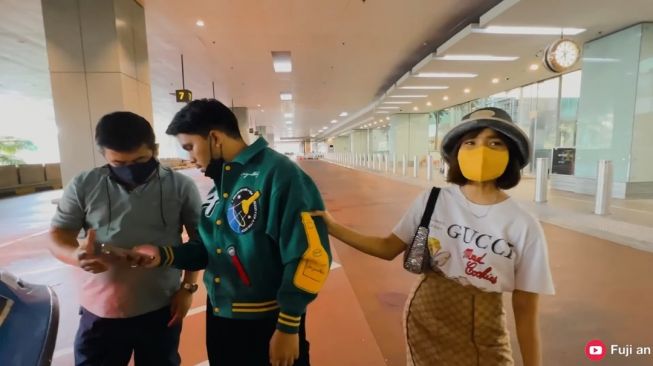 Nia Daniaty's ex-husband also asked that Gala Sky Andriansyah not be involved in Fuji and Tariq Halilintar's buzz content.
"If it is still visible, then we will subpoena. This means that it will be reported," said Farhat Abbas.
He explained the impact of the report, "will it be (in the form of) a reprimand or a criminal offense that violates the child protection law."
Farhat Abbas probably forgot that Haji Faisal and his wife were still taking care of Gala. Moreover, they were also assisted by several babysitters.
Also Read:
Fadly Faisal and Rebecca Klopper Vacation Together like Honeymoon, Reap Blasphemy
As is known, Farhat Abbas once boasted that he wanted to report Fuji and Tariq Halilintar. This is because the couple is considered to be too obnoxious in the video.
FOLLOW MORE NEWS ON GOOGLE NEWS