Suara.com – Liverpool successfully grabbed the FA Cup title this season after beating Chelsea in the final which was held at Wembley Stadium, Saturday (14/5/2022).
The match lasted for 120 minutes, so the winner was determined by a penalty shootout.
Of the seven executors of each team, two Chelsea players failed so that Liverpool came out as champions with a final score of 6-5.
This is Liverpool's second title this season. Previously Liverpool won the English League Cup (Carabao Cup) last February, also by beating Chelsea on penalties.
Also Read:
Lasts Tough for 90 Minutes, Chelsea vs Liverpool Duel Continues to Extra Round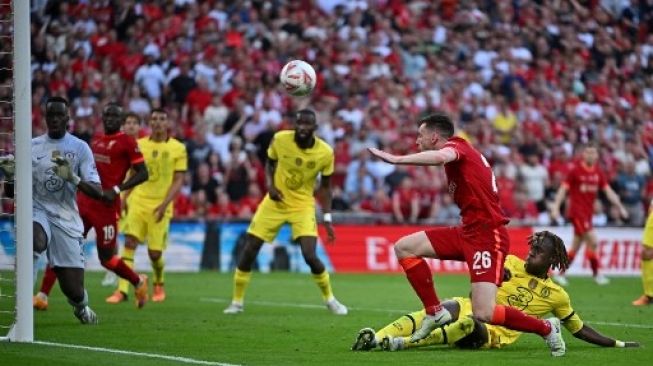 The course of the match
Faced at Wembley Stadium, Liverpool almost changed the position when the game had only been running for nine minutes.
Starting from Trent Alexander-Arnold's movement on the left side, the ball was then passed to Luis Diaz who fired a low shot into the side of the goal but the ball was pushed over by Edouard Mendy.
The threat has not subsided, because the wild ball was immediately struck by Naby Keita. Unfortunately, the ball is off target. The round skin widens on the right side of Mendy's goal.
Stung by the threat of the Reds players, Chelsea retaliated. Through a counter-attack scheme, threats were successfully spread and two of them resulted in opportunities even though they still failed to convert into goals.
Also Read:
Eden Hazard to stay at Real Madrid next season
Entering 34 minutes, Liverpool had to lose Mohamed Salah. The Egyptian star was injured and was replaced by Diogo Jota.
FOLLOW MORE NEWS ON GOOGLE NEWS