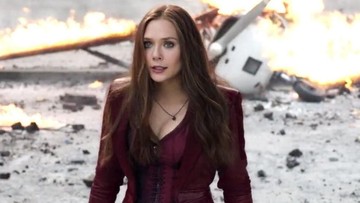 Newsdelivers.com, Insertlive –
SPOILER ALERT!
Actress Elizabeth Olsen managed to steal the public's attention through her role as Scarlet Witch in her latest film Doctor Strange in the Multiverse of Madness.
Elizabeth's acting managed to amaze the audience even though this is not the first time she has appeared in a Marvel film.
The woman who is familiarly called Lizzie is able to change the character of Wanda Maximoff or Scarlet Witch who originally had a good role to become a very scary villain.
Even though it managed to highlight public sympathy, the fate of Scarlet Witch in the MCU or Marvel Universe Cinematic in the future still invites question marks.
At the end of the story, the Scarlet Witch is known to sacrifice herself to destroy the Darkhold. He sacrificed himself amidst the ruins of Mount Wundagore.
The fate of the Scarlet Witch in the ruins has not yet been revealed. is Doctor Strange in the Multiverse of Madness will be the last film for Lizzie?
On the other hand, the 33-year-old woman admitted that she really enjoyed her role as Scarlet Witch.
Moreover, through this latest film, the magician character is no longer afraid to try magic abilities which are very strong so that they can damage and kill many people.
"So I'm very lucky to be able to play a very cool character. I really love being a part of this journey with her (Scarlet Witch)," Elizabeth Olsen exclusively told Insertlive.
"He learned about magic to become the greatest wizard and in this film we see he has been controlled by magic itself and has the strength and confidence to be able to return his life to the way it used to be," he continued.
Watch the full interview with Elizabeth Olsen on Insertlive Music And Movie: Eksklusif Interview Bersama Para Cast Doctor Strange in The Multiverse of Madness on Saturday (14/5) at 14.30 WIB only at insertlive.com.
(agn/yoa)