Suara.com – Two days after the 2021 SEA Games in Hanoi, Vietnam, officially opened, the Indonesian contingent began to improve its position by ranking second in the medal list for the Southeast Asian countries' sporting events.
According to the official website of the SEA Games 2021, as of Saturday night, Indonesia, which was in third place the day before, has now moved up to second place by collecting a total of 14 gold, 16 silver and 8 bronze medals, one notch above Thailand which closely overshadows the rankings. third with 14 gold, 14 silver and 29 bronze.
The host contingent Vietnam increasingly showed its dominance in first place with a total of 38 gold, 30 silver and 28 bronze medals.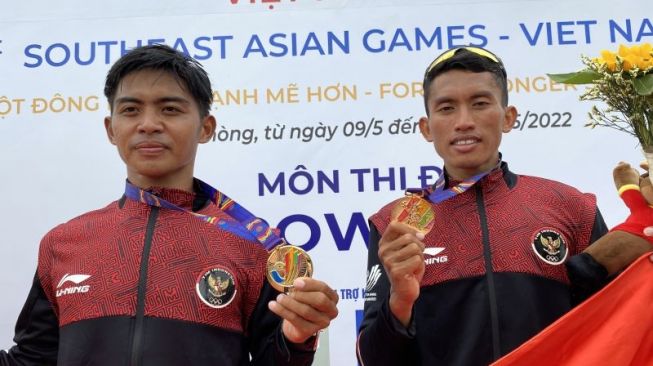 In fourth place is Malaysia with 13 gold, 7 silver and 21 bronze, followed by the Philippines in fifth position with 12 gold, 19 silver and 22 bronze.
Also Read:
Overthrow Chelsea Through Penalty Shootout, Liverpool Win FA Cup 2021/22
Indonesian athletes tried hard to exert all their abilities in a number of medal contests which were held on Saturday (14/5/2022).
The rowing team contributed four gold medals for the Indonesian contingent on the last day of the 2021 Vietnam SEA Games rowing competition which was held at the Hai Phong Rowing and Canoeing Training Center.
The four additional golds were contributed by Ferdiansyah/Denri Maulidzar in the Men's Pair, Ihram in the Men's Lightweight Single Sculls, Jefri Ardianto Suwarno/Rio Riski Darmawan for the Men's Lightweight Pair, and Memo/Edwini Ginanjar/Rifqi Harits/Sulpianto from the Men's Lightweight Quadruple. Sculls.
Overall, rowing Indonesia won eight gold and six silver from the rowing discipline out of a total of 16 gold contested.
Indonesia's rowing coach Agus Budiaji said the results were in line with the previously announced target.
Also Read:
Kill Myanmar 6-0, Indonesian Futsal National Team Keeps the Chance of Winning the 2021 SEA Games Medal
"Actually, we exceeded our target because our initial target was only eight gold medals for rowing. But for rowing and canoeing, we are targeting to win 14 to 16 gold medals," Agus told ANTARA at the Hai Phong Rowing and Canoeing Training Center, Saturday.
FOLLOW MORE NEWS ON GOOGLE NEWS