Suara.com – Newcomer band, Maharaja 48 introduced themselves to the Indonesian music industry. A rock band from Depok, West Java, introduced their first work entitled "Aku Ayah Mu".
The release of "Aku Ayah Mu" took place at Hard Rock Cafe Jakarta on Wednesday (11/5/2022). There were present a number of well-known officials and musicians such as Ian Antono, Roy Jeconiah, Posan Tobing, Yaya Fara (The Winner).
The presence of officials and a number of musicians apparently cannot be separated from Amar Maruf's background as the vocalist of Maharaja 48. Apparently, Amar is one in a government office.
Amar Maruf admits that the pandemic has given him free time to make music. Together with his colleagues, Amar also launched the process of recording several songs.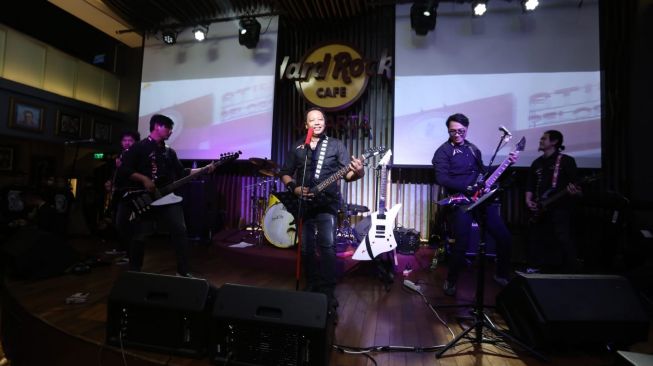 "There is inspiration during the pandemic. How can we continue to work and create something valuable," said Amar Maruf at the release of the song "Aku Ayah Mu".
Classical rock music is carried by Amar Maruf and his friends because they feel that this is the most suitable music for them to play.
"In addition, we also want to prove that rock music is still popular in the midst of the onslaught of modern music like EDM," added Amar Maruf.
Maharaja 48 admits that they are an indie band. Because all the production to the marketing of this song is done alone without the intervention of the label.
"I make all the production myself with my friends," said Amar Maruf.
Uniquely, the song "Aku Ayah Mu" was composed by Amar Maruf when he was watching a film. The film tells the story of a man who was initially thought to be a bad father and husband.
"After I saw and watched it, it turns out that the moral message that not all men leave the house or wander is definitely negative. Even though apart from that, they could actually be making a living for their family," added Amar Maruf.
"I created the song 'I am your father', hopefully the moral message reaches married couples. No matter how busy, no matter how far, outside the city abroad, we are still close to family, children, wife, especially close to God. think like that," said Amar.
FOLLOW MORE NEWS ON GOOGLE NEWS