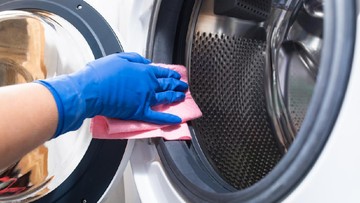 Who says washing machines don't need to be cleaned? Even though it looks clean, but actually there is dirt and invisible residue on the washing machine, therefore you need to clean the washing machine too so that the washing machine lasts a long time, right.
Washing machines that are rarely cleaned can cause unpleasant odors. Instead of making clothes clean and fresh, your washed clothes might smell bad.
Not only the outside that needs to be cleaned, the inside is also of course important to clean because otherwise it can cause bacteria and fungi that have an impact on the clothes being washed.
For tools and materials, you only need to prepare vinegar and chlorine, an old toothbrush, a microfiber cloth and dish soap. For a complete way to clean the washing machine, you can see below as Bubun has summarized from The Spruce. Let's see!
1. Empty the washing machine
Before you clean the inside of the washing machine, it's a good idea to check first to make sure the washing machine is empty of clothes and detergent water.
If it is empty, before going to the next step, prepare hot water to clean the inside of the washing machine.
2. Add hot water mixed with vinegar and chlorine
After Mother has prepared the hot water stew while setting the longest cycle time available on the washing machine, then add vinegar or chlorine (choose one).
When you're done, make sure your washing machine is clean as it's important to make sure there's no vinegar or chlorine remaining before the next step.
The two materials can produce toxic gases and are very dangerous when mixed. If you are sensitive to the smell of chlorine, make sure you do this washing in a place that has good ventilation.
3. Clean the detergent container
Some washing machines have a detergent container. Well, if you have a washing machine that has a detergent container, don't over-clean this part, okay?
Heat the water and vinegar mixture to a boil, then put the water in a bowl and let sit 15 minutes or until the container is clean of residue.
But if your detergent container is removable, you can take it off and soak it in a large bucket of hot water, then add the heated vinegar and let it sit for 15 minutes.
Continue reading the next page for more advanced washing machine cleaning methods.