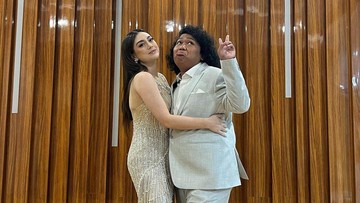 Newsdelivers.com, Insertlive –
The closeness of Marshel Widianto and Celine Evangelista again attracted public attention. This time, when the two of them were on a podcast on a YouTube channel, Celine was caught being spoiled by Marshel.
Celine looks like she doesn't hesitate to show her other side in front of Marshel. He even dared to cling to Marshel's shoulder while laughing out loud.
As if he didn't want to miss a moment because of Celine's spoiled attitude, Marshel immediately brought his face closer to Celine's head as if he was about to kiss. Suddenly Celine was surprised by Marshel's reaction.
"He likes that, likes fishing," said Marshel Widianto to Antonius Rovy as the host, quoted from the YouTube channel Dapur Bincang Online.
On the same occasion, Marshel also emphasized that Celine is a good woman who is willing to work together regardless of her appearance. Marshel said Celine often saw him getting rejected while playing tricks on several women.
"But Celine is the best person because several times, because she witnessed, when I was playing games with girls, there were many rejections," said Marshel.
Marshel once provided clarification regarding his close relationship with Celine. He admitted that his relationship with Stefan William's ex-wife was just a friend.
"Friends, we are friends," said Marshel when met by Insertlive.
Marshel also emphasized that the moment of togetherness with Celine that went viral on social media was only a fun event.
(yoa/fik)