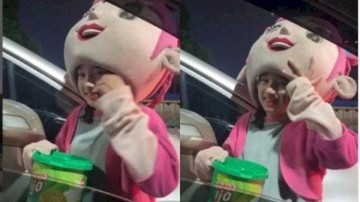 Newsdelivers.com, Insertlive –
The virtual world has recently been shocked by a girl who is a clown busker at a red light who is beautiful. His figure went viral after a netizen recorded and uploaded it on social media.
The girl wore a pink and gray clown costume while singing in a traffic light area. He was accompanied by other girls who wore green and gray costumes.
"You are so beautiful," said netizens who recorded enthusiastically.
After being praised as beautiful, the little busker immediately blushed and covered his face. He is also polite while spreading a smile to people who are stuck in traffic jams.
Through re-uploads from the Instagram account @say.viideo, netizens were observed to be busy writing positive comments. Apart from compliments, there are even those who intend to adopt the girl.
"Oh my gosh, it's beautiful, it can be adopted, yes," wrote netizens.
"I'm here to be your adoptive brother,"said another netizen.
(yoa/yoa)