Suara.com – For lovers of elegant European-style scooters, the appearance of the Suzuki Saluto 125 could be the biggest temptation that is hard to ignore. The reason is, the scooter which is currently on sale in Taiwan is the result of the cold hand design of Alessandro Tartarini. Approximately how much is the price of the Suzuki Saluto 125 in Indonesia?
It is known, at first glance, the Suzuki Saluto looks similar to the typical Vespa design with a rounded design and almost no aggressive corners. However, the sporty touch actually looks stronger if you pay close attention to the following features.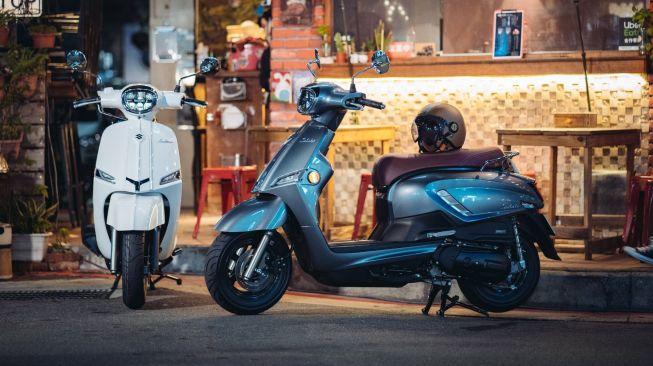 Features and Price Suzuki Saluto 125
Suzuki Saluto is supported by an LED DRL design that combines with the positioning lamp. The sporty and dynamic impression seems to stick out from the shape of the DRL lamp which is designed to resemble an eye.
Also Read:
Suzuki Swift Price: Complete Used Car Price Since 2005 Edition
Not only does it include a sporty impression on the DRL lamps, the Saluto taillights are square-shaped, the LED light lines are firm, to the separate turn signal design adds a sporty impression. Suzuki Saluto also added modern features to the scooter alert this time.
Saluto is equipped with a keyless remote that functions to start the vehicle engine, open the fuel tank cap, as well as to open the seat. This feature certainly adds comfort for users when driving or wanting to operate this scooter. Suzuki Saluto is designed with a high level of skill, this can be seen from the complementary features on the dashboard such as a knob to turn on or turn off the engine, a 5V2A USB plug for fast charging, hangers, to the fuel tank cap.
In the aspect of the instrument panel, Suzuki Saluto carries an analog and digital instrument panel. The digital panel displays information about the clock, mileage (odometer), fuel volume, turn signal, up to vehicle speed (speedometer).
Suzuki Saluto is equipped with the latest Suzuki Eco Performance (SEP) engine. This 125 cc engine is capable of producing a peak power of 8.8 PS at 7,000 rpm and a maximum torque of 9.6 Nm at 6,000 rpm.
Citing the Suzuki Taiwan page, the highest variant of Suzuki Saluto, namely Luca Green and Genoa Red, is priced at 83,800 TWD or equivalent to Rp. 43.1 million.
Also Read:
Gesits Explores Australian and Philippine Automotive Markets
While the price of the Suzuki Saluto in the cheaper variants, namely Bologna Rose Gold and Naples Dark Blue, the price is around 81,000 TWD or around Rp. 41.7 million. If you are interested in the classic Suzuki Saluto, then you can get it for around 80,000 TWD or the equivalent of Rp. 41.2 million.
This is information about the price of the Suzuki Saluto 125 in Indonesia which is interesting to know. Are you tempted to woo this scooter?