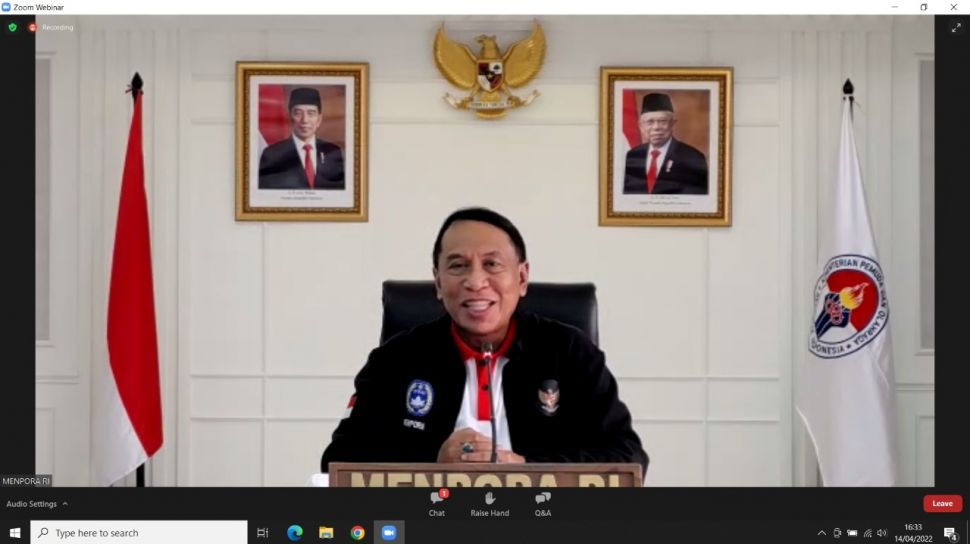 Suara.com – The Menpora Cup, Liga 1 and 2 season 2021/2022 were successful. This is none other than thanks to the support of supporters and spectators who obey by not coming to the stadium, crowding and not even watching together.
"It's amazing that everyone does not believe that Indonesian spectators or supporters can be orderly, can obey the rules and so on. This is all refuted," said Menpora, Zainudin Amali in an activity entitled "Appreciation of Supporters" organized by PSSI.
Just so you know, this activity is an appreciation of the supporters who have succeeded in the Menpora Cup, Liga 1 and Liga 2 season 2021/2022. The event which was broadcast live on Vidio.com, Thursday (14/4/2022) afternoon was also attended by PSSI General Chair Mochammad Iriawan, President Director of PT Liga Indonesia Baru (LIB) Ahmad Hadian Lukita, Deputy Pempred Bola.com Erwin Fitriansyah, Chairman PSSI Supporter Development Division Budiman Dalimunthe as well as club representatives and supporters representatives.
"I appreciate and welcome what PSSI has done, this is an activity to welcome PSSI's 92 years. It doesn't feel like this organization or federation that we love and be proud of has had a long journey, and its dynamics and intricacies have also adorned many of our football history records," said Amali.
Also Read:
Once the target of Persija Jakarta and Bali United, Sandy Walsh insists that he will continue to play in Europe
Amali ensured that the government fully supports PSSI, competition managers, clubs and supporters. Especially for supporters, currently it has been regulated in Law Number 11 of 2022 concerning Sports.
"In Law Number 11 of 2022, supporters have been specifically regulated, he is in Article 55 and so on. Later you can read what the rights and obligations of the supporters are, so that they know what the rights and obligations of the supporters are," he said.
According to Amali, supporters have a very important role in a tournament or sports championship, especially football. Because, without the presence of supporters, the enthusiasm of the athletes or players will decrease.
"It turns out that this is not only in football, but in other activities, both multi-event and single-event. We know that during this pandemic all activities are held without the presence of spectators or supporters," he said.
Amali also said that when he was with the PSSI General Chair, they had to ensure health protocols and ensure fans did not come to the stadium when they wanted to hold the Menpora Cup pre-season tournament.
Also Read:
Bali United Opportunity to Recruit Jordi Amat, who is now a fight for League 1 clubs, here are 3 reasons
According to him, at that time many people doubted that the Menpora Cup could run well, and even he was often criticized on social media for forcing activities in the midst of a pandemic.
"When we ventured to guarantee that the pre-season tournament activities would be safe, no fans would come, at the beginning we were still doubtful because it was extraordinary that we were blasphemed for taking the initiative to carry out this activity," he said.