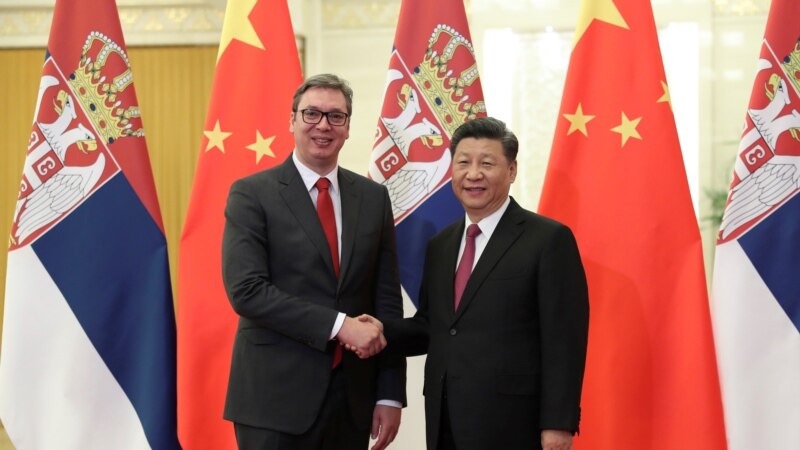 Serbian President Aleksandar Vucic confirmed on Wednesday that Serbia had purchased Chinese air defense systems, FK3, and described the purchase as "legal, orderly and transparent".
Earlier in the week, media reported that Chinese military aircraft carried the FK-3 surface-to-air missile defense system, similar to Russia's S-300 or US Patriot system, to Belgrade last weekend.
China confirmed that this is a "regular delivery of military equipment" that was planned long ago and has nothing to do with the current situation in the world. Chinese air defense systems were purchased in 2019.
The acceptance of Chinese weapons sparked reactions amid Western concerns that an arms embargo in the Balkans during the Ukraine war could threaten fragile peace in the region.
In a video message released on Wednesday, the Serbian president chose to respond to criticism from Kosovo Prime Minister Albin Kurti and Montenegrin President Milo Djukanovic.
The Montenegrin president said he was concerned about the tendency "to arm Serbia with weapons from countries that are now emerging not only as competitors, but also as enemies of Europe and NATO."
The Prime Minister of Kosovo said the day before that "Serbia seems to me to be in a kind of panic when it realizes that it can not stay in three or four seats at the same time. It is trying to strengthen itself, because maybe it can stay "Serbia's continued arming is not safe for the region and the Republic of Kosovo, but on the other hand, it is an expression of their fear that they may be left alone."
The Serbian president said on Wednesday that the two leaders used the purchase of weapons to tell the world that "Serbia is a friend of China and Russia and that it threatens anyone, even though it is surrounded by NATO territories."
He stressed that Serbia does not threaten anyone with "defensive weapons that serve to destroy enemy missiles and aircraft that could violate Serbian airspace. How are we endangering Pristina and Podgorica? What air forces do they have? It would be better if we bought "autan spray (against insects)", said the Serbian president.
But he did not talk about western attitudes about Chinese weapons.
In 2020, US officials warned Belgrade against buying HQ-22 anti-aircraft systems, the export version of which is known as the FK-3. They said that if Serbia really wants to join the European Union and other Western alliances, it must harmonize its military equipment with Western standards.
Germany said on Tuesday it had seen reports that Serbia had received Chinese surface-to-air missiles, warning that it expects the Balkan country to approximate its foreign policy with the European Union if it wants to become part of the bloc.
Serbia is balancing its European aspirations and partnership with NATO, with its centuries-old religious, ethnic and political alliance with Russia.
German Foreign Minister Annalena Baerbock on Monday reiterated calls for Serbia to join the EU, the United States and other countries in imposing sanctions on Russia over its aggression in Ukraine.
Belgrade has voted against Russia three times at the United Nations, but has not imposed sanctions on it.
Serbia's army relies on former Soviet technology, and Russia is one of its main suppliers. Belgrade is also dependent on gas and oil supplies from Russia.
The West is concerned that arms purchases from China and Russia could contribute to their influence in the tense Balkan region, which is still recovering from the devastating wars of the 1990s.