Suara.com – One by one, the perpetrators of the beating against Ade Armando were arrested by the police. Recently, the police arrested a man named Dhia Ul Haq who is known to be the first person to beat Ade Armando while attending the April 11 action in front of the Indonesian Parliament Building.
Dhia Ul Haq was arrested by the police while he was at a boarding school in the Serpong area, South Tangerang, Banten.
"Yes (he was arrested at a boarding school)," said the Head of Public Relations of the Metro Jaya Police Kombes Pol Endra Zulpan when confirmed, Wednesday (13/4/2022).
However, so far the police have not explained in detail the chronology of the arrests and the motives of the perpetrators involved in the beating of Ade Armando. Zulpan only said that later the case would be explained clearly during a press conference at the Polda Metro Jaya, this afternoon.
Also Read:
After being ravaged by the masses and stripped naked, Ade Armando turned out to be interrogated by the police
"Later released," he said.
It is known, sticking out photos that are suspected of being the perpetrators of beating Ade Armando. One of them is Dhia Ul Haq. Based on screenshots of photos that have gone viral on social media, Dhia Ul Haq is said to live in KP. Land 80 No. 31 RT 007/ RW 009. Klender Village, Duren Sawit District, East Jakarta.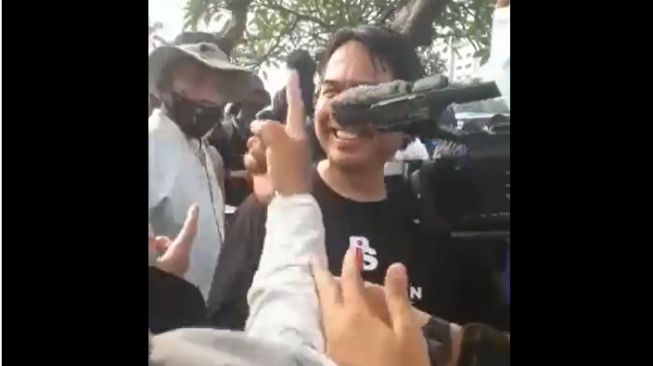 Only Two Suspects Arrested
Investigators have already arrested two of the total six suspects in this case. The two, namely Komar and Muhammad Bagja.
Dirreskrimum Polda Metro Jaya Kombes Pol Tubagus Ade Hidayat at that time confirmed that the two were not from the student group.
Also Read:
Friends Reveals Ade Armando's Persecution Provocateur, Asks to Be Arrested and Tried
"His job or status is an entrepreneur," said Tubagus at Polda Metro Jaya, Jakarta, Tuesday (12/4) yesterday.