Suara.com – There are always unexpected stories experienced by online motorcycle taxi drivers while at work. One of them is when the map in the application leads him to an odd and inappropriate point.
This is what an online motorcycle taxi driver experienced in the following viral video. Ojol drivers recorded on TikTok account @bak_prabu it is delivering the whole milk order according to the delivery point in the app.
But who would have thought that the map in the application would direct him to a location that made hairs stand on end, namely a cemetery. The situation is getting scary because the order must be delivered at night.
"Excuse me… oh my God, how is this? People nitik (determining the delivery point) how come it's like this," complained the ojol driver, quoted Suara.com on Wednesday (13/4/2022).
Also Read:
Not Only Men, The Viral Trend Of Running Is Now Also Followed By Female Participants
Seen the driver walking slowly down the cemetery area which of course is very quiet and dark at night. His expression clearly looked scared because it looked like he was doing a test of his guts in the cemetery area.
"How is it? This is Shijack's order, but the point (of delivery) is this,"He continued. As expected, the burial area was very quiet, dark, and of course it gave people goosebumps.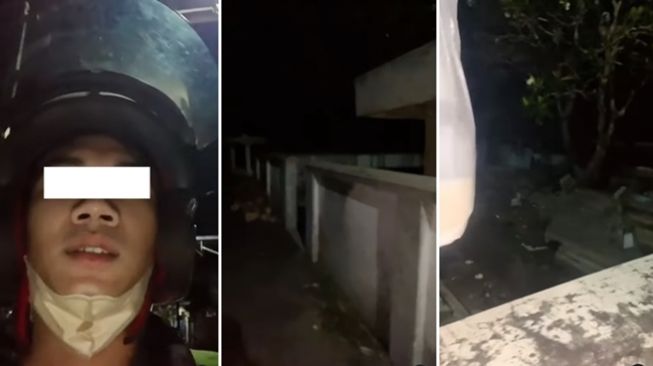 "Excuse me… sorry … Who's the one who ordered Shijack's milk?" he asked, who was still joking around while looking at the grave area. "Wow, what's this? My hands are shaking."
After that the driver immediately left the cemetery area he came to.
This scary and funny experience was later re-uploaded by the Instagram account @dramaojol.id and got a lot of response from netizens.
Also Read:
Viral Funny Moment Courier Parts Student Demonstration for Packages Between Packages, Public: Like Ambulance Given Way
"If you're not strong, just wave your hand at the camera," saran @dramaojol.idas if this one driver was following a guts test program on television.