Suara.com – The heavy rain that fell several times caused flooding. In fact, it is not uncommon for floods to occur on protocol roads that are crowded with vehicles.
Of course, the high puddle of water can make it difficult and even dangerous for passing motorists. However, usually this situation is responded to with complaints to urge the government to hurry to fix the existing problems.
However, what these gentlemen did was successful in making the public touched. Because he is willing to go directly to the street and pick up the garbage that clogs in the waterways on a major road.
This noble action can be seen in the video uploaded to the Instagram account @jentikhati. Seen a big busy road with drivers inundated with water which fortunately is not too high.
Also Read:
Viral Hungry Airline Officer When Loading Packages Of Food On The Plane, His Action Steals Attention
This condition is perpetuated by a car driver. Until the lens then shot the unexpected action of a man in a blue helmet in the middle of the road. The middle-aged man was seen looking down several times in the middle of the high puddle.
The new action becomes clearer as the car moves closer and closer. It looks like the men are picking up trash that clogs the waterways.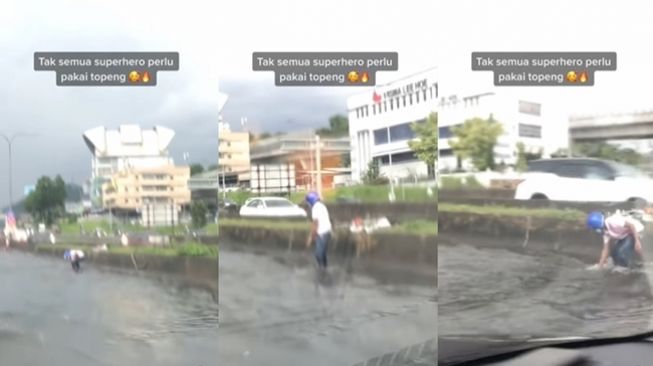 After picking up the garbage that clogs the waterways, most of which are plastic waste, the men put it aside on the concrete roadblock. Even though the puddles are dirty and cold, the men still seem diligent in picking up trash that clogs the drainage.
Seeing that the men were not wearing any uniform, it can be assumed that this action was carried out voluntarily by a resident who was furious to see that the main road was actually flooded.
"Not all superheroes wear masks," said @budakbaiks who first went viral this video, as quoted Suara.comTuesday (12/4/2022).
Also Read:
Viral Video Bocil Asked to Lift a Large Cardboard, 'Not Strong' Reaction Makes the Public Laugh
Of course, the action of the man recorded in the video immediately received a lot of attention. Netizens were in unison praising the noble actions of these gentlemen, especially because they were done voluntarily.