Suara.com – Secretary General of the Indonesian Movement for All (PIS), Nong Darol Mahmada revealed the current condition of PIS Chairman Ade Armando after being beaten by a number of people while participating in a demonstration in front of the DPR/MPR RI building, Jakarta, Monday (11/4/2022). Nong said that Ade is currently undergoing treatment at Siloam Hospital, Semanggi, Jakarta.
"That's right," Nong said during a press conference that took place via Zoom, Monday.
Nong explained that currently the family, such as Ade's wife and children, are also in the hospital. He said that Ade's wife, Nina M Armando, could not provide information regarding the beatings that happened to her husband.
This is because Nina's condition is still in shock over the incident.
Also Read:
Arrest Several Groups of Suspected Perpetrators of Beating Ade Armando, Kapolda: If it's not proven, we'll send them home
"His family, like the rest of us, were devastated. They couldn't give statement. If Ms. Nina is inside right now, there must be a family waiting for the action process to be carried out by the doctor, and Ms. Nina is inside," he said.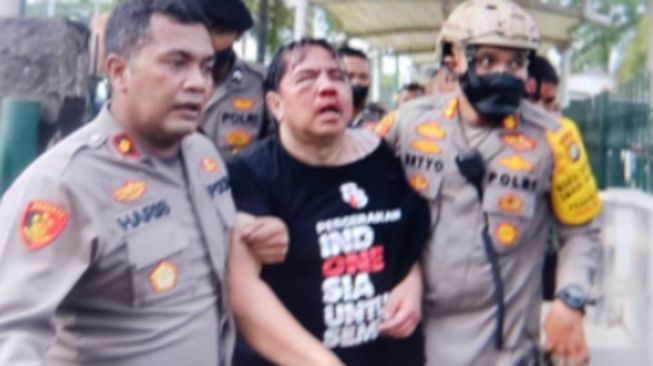 Ade Armando became the victim of a beating when he was present in the middle of a demonstration from various groups in front of the Indonesian Parliament building, this afternoon.
Based on Monitoring Suara.com, Ade Armando suddenly became the target of a group of people who were at the location of the student demonstrations. As a result of the violence, Ade Armando looks battered.
It is suspected that the commotion occurred when Ade Armando was visited by a group of people. Apparently, pushing and shoving occurred when Ade Armando was in the middle of a demonstration.
Ade Armando previously admitted that he was present to support the action that would be carried out by fellow students at the Indonesian Parliament building.
Also Read:
Viral Ade Armando Beaten by Massa, Gus Ulil Abshar Abdalla to Dandhy Dwi Laksono Compact Curses Violence
Based on Suara.com's observation, it seemed that he had come wearing a black T-shirt. He admitted that he would support the student action if those who were demanded were to refuse to extend President Jokowi's term of office to three terms.