Suara.com – Metro Jaya Police Chief Inspector General Fadil Imran claimed to have identified the group that had attacked social media activist Ade Armando during a demonstration on April 11 in front of the Indonesian Parliament Building, Jakarta, this afternoon. Regarding this claim, the Regional Police Chief gave an ultimatum to the alleged perpetrators involved in ganging up on Ade Armando to immediately surrender.
The two-star general confirmed that the police had arrested several groups suspected of being gangsters for Ade Armando. However, if it is not proven that they have committed abuse, then those arrested will be released again.
"Currently, several groups have been detained. If we don't do anything, we will return them," said Fadil in the area of ​​the DPR RI Building, Monday night.
Inspector General Fadil confirmed that it was possible that the police would immediately take legal action against the Ade Armando gang if they refused to surrender. In fact, the Kapolda admitted that he would reveal the identities of the perpetrators of the beatings if they persisted in running away from the law.
Also Read:
Members Evacuate Ade Armando from Beatings, Kapolda Metro Jaya: Six of Our Members Are Injured
"For the perpetrators, we have identified the group as well as the people. Tomorrow maybe we will carry out law enforcement efforts. Announcing the identity of the perpetrators. If they don't surrender, we will arrest them," explained Fadil.
As a result of the persecution, the Kapolda said that Ade Armando's condition was now concerning. Now, Ade has been rushed to the hospital for immediate help.
"Ade Armando's condition is concerning. He was injured in the head. Now the Polda team has taken him to the hospital. And the hospital team has helped him," said Inspector General Fadil.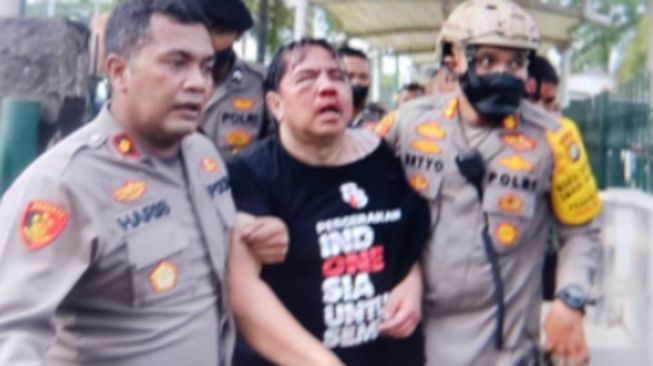 Beating Chronology
Based on monitoring Suara.com Ade had been at the location since this afternoon in front of the Parliament Building. He admitted that he supported the students' action if they demanded that the president's term of office be extended for 3 periods.
Also Read:
Treated at Siloam Semanggi Hospital, Family Beaten Heard Ade Armando was beaten by Mass Action at DPR
Until finally at around 15.31 WIB after the leadership of the DPR and the National Police Chief approached the crowd, not far away Ade was being surrounded by a number of people who appeared to be adults.