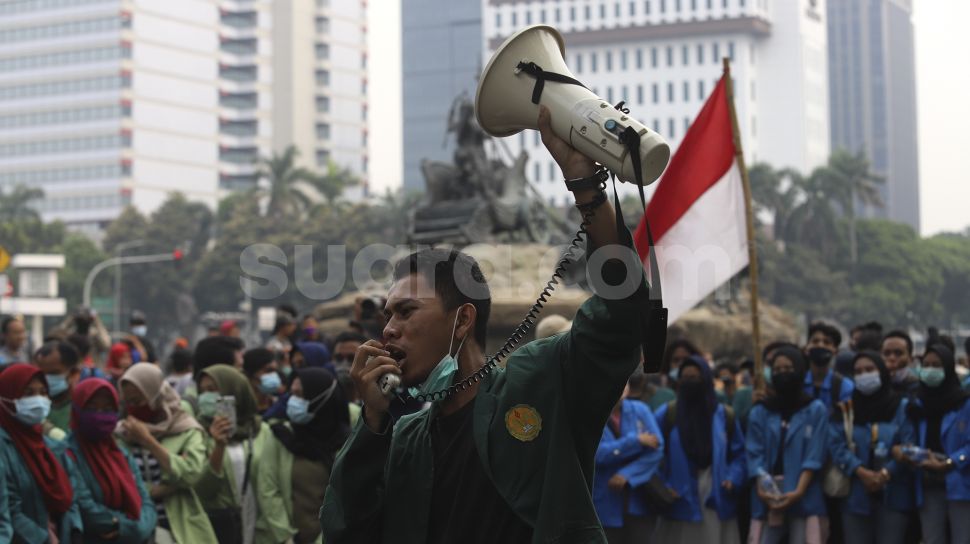 Suara.com – The All-Indonesian Student Executive Board (BEM SI) will again hold a demonstration in the State Palace area, Jakarta, on Monday (11/4/2022).
BEM SI targets to bring 1,000 demonstrators and is planned to come from 18 campuses. They are students from UNJ, PNJ, IT-PLN, STIE SEBI, Undip, UNS, UNY, Unsoed, SSG, STIEPER, STIE Dharma Agung, STIS Al Wafa, IAI Tazkia, AKA Bogor, UNRI, Unand, Unram, PPNP.
This action is called by Kaharuddin as the coordinator of BEM SI, which is a continuation of the demonstration on March 28, 2022. His own reason was to collect promises related to his side's demands that had already been submitted.
"That's right. The action on April 11, 2022 asks for answers from the action on March 28, 2022, how the government or Mr. President Jokowi has answered our demands for the past 14 days," said Kaharuddin, Thursday (7/4/2022).
Also Read:
List of 14 Positions held by Luhut in the Jokowi Era, Latest Appointed as Chair of the SDA Council
The following are six demands that are known to be submitted by BEM SI to Jokowi through a follow-up action on April 11.
Urge and demand President Jokowi to be firm or refuse and provide a statement of attitude towards the postponement of the 2024 election or a three-term term because it clearly betrays the state constitution.
Urge and demand that President Jokowi postpone and review the National Capital City Law (UU IKN), including problematic articles and their impacts from environmental, legal, social, ecological, political, economic and disaster aspects.
Urge and demand that President Jokowi stabilize prices and maintain the availability of basic commodities in the market and resolve other food security problems.
Urge and demand that President Jokowi thoroughly investigate the cooking oil mafia and evaluate the performance of the relevant ministers.
Urge and demand President Jokowi to resolve agrarian conflicts in Indonesia.
Urge and demand that President Jokowi and Vice President Maruf Amin fully commit to completing their campaign promises for the remainder of their term of office.
Kaharuddin also said that this follow-up action was not chaired by any political group. Meanwhile, the police said that until now there has been no permit related to the demonstration.
On the other hand, BEM SI denied the accusations that they were said to be going to overthrow President Jokowi on Monday's action after a poster that read Take down Jokowi and his cronies viral on social media.