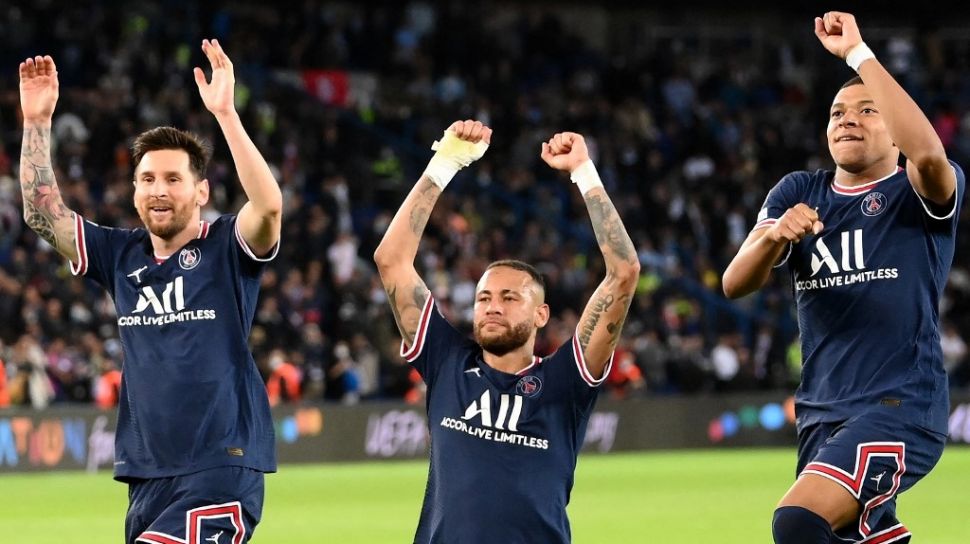 Suara.com – Kylian Mbappe and Neymar both scored hat-tricks in Paris Saint-Germain's 6-1 win over Clermont on Sunday (10/4/2022) WIB, which ensured PSG were closer to securing the Ligue 1 title this season.
Mbappe, who has yet to decide whether to stay with PSG, scored two goals and provided three assists in his team's 5-1 win over Lorient last weekend.
He added an assist and won a penalty in this match to top the Ligue 1 goalscorers list this season with 20 goals.
Mauricio Pochettino's men are now 15 points clear of second-placed Rennes and look certain to reclaim the league title with seven games to go.
Also Read:
How Pochettino prevented Kylian Mbappe from leaving: Offer PSG captain ban
Clermont remains in 17th place with just one point ahead of Saint-Etienne who occupy the relegation playoff spots.
PSG only rely on Ligue 1 after being eliminated by Real Madrid from the Champions League. But for the second time in a row playing is very impressive.
They took the lead in the sixth minute as Mbappe wreaked havoc in the home defense with a powerful strike from the left flank.
The ball finally reached Lionel Messi whose clever pass found Neymar in a good position for the Brazilian to direct into the far corner of the Clermont goal.
The Clermont players were enraged that PSG continued to attack despite their defender groaning with injury.
Also Read:
Kylian Mbappe Opens Up About His Future After Helping PSG Win 5-1 Over Lorient, to Madrid?
The future champions doubled their lead in the 20th minute as Messi made his twelfth league assist of the season.
The seven-time Ballon d'Or winner fired a volley at Mbappe which he pushed past goalkeeper Arthur Desmas.
Clermont had come back shortly before the break when Jodel Dossou scored one goal after completing a compact movement of his team.
Neymar almost restored PSG's two-goal lead just before half-time but Desmas made a brilliant save by parrying the Brazilian's shot.
The Ligue 1 giants dominated possession early in the second half but struggled to finish off their chances and were even forced to hang on to goalkeeper Gianluigi Donnarumma to save from Jason Berthomier's shot.
But with 20 minutes remaining PSG became unbearable when Mbappe was brought down in the box by Akim Zedadka following a quick counter-attack. Neymar executed it to send Desmas in the wrong direction.
Mbappe scored his second just minutes later by rushing after a brilliant pass from Neymar and then rounding Desmas before beating the Clermont keeper.
PSG's terrifying trident then netted the fifth when the ball from Neymar's shot reached Messi who gave it to Mbappe and then curled it into the far corner.
The visitors scored four goals in 12 minutes with seven minutes remaining as Neymar completed his first hat-trick since December 2020.
He is again indebted to Mbappe who tirelessly ran to give his team-mate his easiest finish in the 83rd minute.