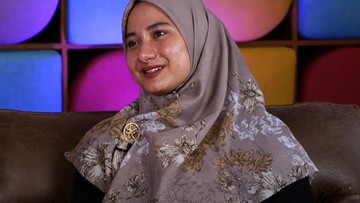 Newsdelivers.com, Insertlive –
Nadzira Shafa of course still feels sad for the departure of her husband, Ameer Azzikra. Moreover, both of them have just felt the romance of undergoing a household dipper. Six months of officially being husband and wife, Nadzira had to let her husband go to the Creator.
Nadzira Shafa admitted that he had been visited by the late Ameer Azzikra through a dream. In that dream, Ameer Azzikra seemed to convey a message for Nadzira to find a replacement for him.
It seems that the late Ameer did not want to see his wife wrapped in sorrow. Nadzira said that her late husband wanted her to continue living happily.
"He was present in my dream. He said that, 'You have to be happy, don't be alone until the end'," said Nadzira when she was present at the Morning Morning AmbyarTrans TV.
Nadzira said she was visited by Ameer Azzikra a hundred days before her late husband's departure. Nadzira admitted that she was very devastated by the loss of a husband who was so good in her eyes. This made Nadzira Shafa pessimistic about getting a husband like the late Ameer Azzikra.
"Indeed, at that time, yes, his name was also just left behind, let alone left without being hurt at all, so our thoughts were, well, never mind. I thought, 'Is there a (good) person like him?" he said.
Regarding the dream she experienced, Nadzira Shafa has her own interpretation. The message must be happy, believed by Nadzira so that she can continue her life by doing activities she likes. Regarding the message to find a replacement for Ameer, Nadzira admitted that at this time he really wanted to have a small family.
"Maybe for now, the message 'Adek must be happy, huh', there I thought that I should do what I like. That's why I wrote, I released a song, that's what I like," he explained.
"And for the problem I won't be alone until the end, yes, because after thinking about it, I want to have a family," he concluded.
Nadzira later wants to tell the figure of Ameer Azzikra who has been present in her life to her children.
(kpr/and)