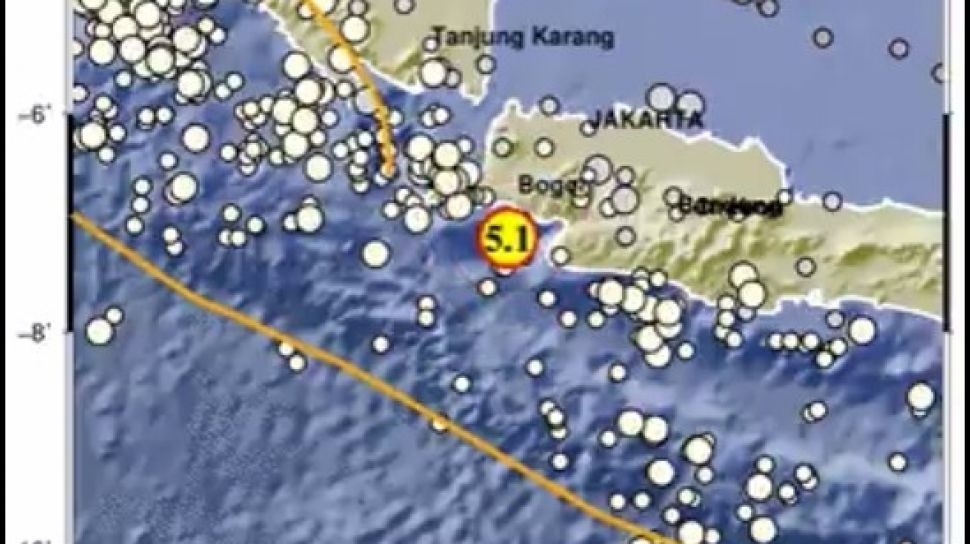 Suara.com – The Meteorology, Climatology and Geophysics Agency/BMKG revealed that the 5.1 magnitude earthquake that occurred in the South Banten region on Friday (1/4/2022) was triggered by the Cimandiri fault activity.
The BMKG Earthquake and Tsunami Mitigation Coordinator, Daryono explained that based on the location of the epicenter and the depth of the hypocenter, the earthquake that occurred was a shallow earthquake caused by active fault activity on the seabed.
"The southern Banten earthquake with a magnitude of 5.1 this afternoon has a left shear fault source mechanism (sinistral strike-slip) allegedly triggered by the Cimandiri Fault which continues to sea," said Daryono.
The epicenter of the earthquake was located at coordinates 7.14 degrees south latitude and 106.01 degrees east longitude, precisely at sea at a distance of 29 kilometers southeast of Cikeusik, Pandeglang, Banten at a depth of 10 km.
Also Read:
Banten has been shaken by four earthquakes, the Lebak BPBD urges residents to avoid damaged buildings
This earthquake had an impact and was felt in Pelabuhan Ratu with an intensity scale of IV MMI, Panggarangan and Tanjung Lesung areas with an intensity scale of II-III MMI, areas of Jakarta, South Tangerang, Cidahu, Tangerang, Bogor, and Bandung with an intensity scale of II MMI.
The modeling results show that this earthquake has no potential for a tsunami because the magnitude is relatively small to be able to generate a tsunami. As of Friday afternoon, BMKG detected 3 aftershocks with the largest magnitude of 4.4. [Antara]