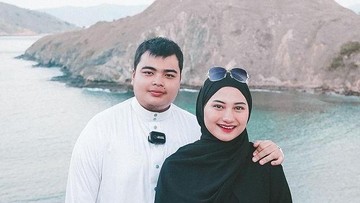 Newsdelivers.com, Insertlive –
Nadzira Shafa, the wife of the late Ameer Azzikra, still feels deep sorrow after her husband's departure to the Creator on November 29, 2021. While talking to Feni Rose, the woman who is familiarly called Zira shared her memories with Ameer before her husband finally breathed his last.
Zira admitted that he felt something was bothering him before he got the news that Ameer Azzikra's condition had worsened.
"So I took care of Bang Ameer for two days. Two days it took Mum's turn. Well, when I was changing with Mama, I was at home, I just felt anxious. I chatted with Bang Ameer, my chat was a few minutes before Bang Ameer left, I said, 'Bang, I don't think you can do this, I don't think you can stay away from your brother, can you accompany your brother'. The point is that I asked Bang Ameer for help, for me to accompany him," said Nadzira Shafa on the Feni Youtube channel. Rose.
"Then Bang Ameer called, 'It's okay dear, first change with Mama. Brother will still be treated for the next ten days', he said that. That's how it is. When Bang Ameer died, I just realized, 'Oh, it's okay, two days before Bang Ameer died, I was really worried,' I just wanted to cry," he continued.
Before he died, Ameer Azzikra's health condition had declined. Zira, who was at home at that time, received news from her mother that Ameer would enter the ICU.
"Suddenly on the phone with mom, 'I want to come here, I want to go to the hospital, Bang Ameer, I want to enter the ICU', I immediately trembled," said Zira.
Arriving at the hospital, Zira saw Ameer was already in a state of shortness of breath. Nadzira Shafa's tears fell when she heard Ameer Azzikra's words for the last time.
"There, Bang Ameer was sitting there, but his position was already very tight. He used oxygen, it was really tight," said Zira.
"I sat next to him, he smiled. 'Adek' he said that. Anyway, after that nothing came out of his mouth other than sorry and thank you," he continued revealing.
Not only to himself, it turned out that Ameer Azzikra also had the opportunity to apologize and thank his family.
"It took time for acceptance, sis. So Bang Ameer's voices apologized, 'Thank you, dek, thank you, sis, thank you for wanting to marry my brother,' "said Zira.
"So he has said all his thanks to my mother, to my sister, including to her mother as well, to me many times. I think maybe this is a good person, sis, so she apologized and thanked the people she dear," he explained.
(kpr/kpr)