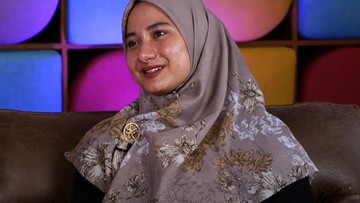 Newsdelivers.com, Insertlive –
Ameer Azzikra has been gone for 100 days leaving his family and loved ones and closest relatives. However, his memories still linger to this day, especially for his wife, Nadzira Shafa.
Nadzira Shafa also revealed a sad story before her husband died in November 2021.
While being treated at the hospital, Ameer Azzikra had time to remember Nadzira Shafa to pat her hand when she fell asleep.
"We were joking first, the doctor couldn't sleep. He said, 'Dek, if you fall asleep, wake up, clap your hands,' I said 'yes, bro,' "said Nadzira Shafa on the Feni Rose YouTube channel.
Nadzira Shafa did what her husband asked her to do when her health began to decline. While the doctor was carrying out medical procedures, Nadzira Shafa continued to pat Ameer's hand.
"When Ameer died, it was still being processed, I immediately remembered 'deck, when you go to sleep, clap your hands', so I clapped your hands, 'Brother, come on, wake up, we still have a lot of dreams that we haven't seen yet. tired, I still need a brother'," explained the woman who was called Zira.
However, Zira realizes that the chances of Ameer Azzikra to live again are very small. Zira also tried to justify the departure of Ameer Azzikra.
"In the end, how many minutes did it take, I saw Ameer, I immediately replayed all my words, 'brother, I'm tired, bro, rest, it's okay, you can do it yourself, don't worry, brother,' I said that," he said.
Zira admits that it was hard for him to let Ameer go at that time. When Ameer was declared dead, Zira could only stare and couldn't cry anymore.
Nadzira Shafa felt that what happened was just a dream.
"Until Ameer was declared dead, I had no tears. I was just sitting looking at Ameer's body like it was a dream, isn't it like a dream. If a dream really hurts, it's real, I pinch it, it's not a dream," he concluded.
(kpr/kpr)