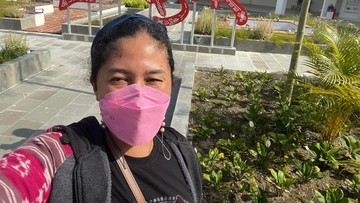 Newsdelivers.com, Insertlive –
Rara Wulandari, a viral rain handler who managed to stop the rain at the Mandalika Circuit, revealed her secret while doing her job.
From Rara's story to Deddy Corbuzier, the rain handler explained that he was not allowed to have sex before doing his job.
"Rara doesn't have sex. Rara now single parents because Rara must be at one with nature," said Rara in a podcast Deddy Corbuzier Thursday (24/3).
Furthermore, Rara explained that the prohibition on sexual intercourse only applies before and after doing work.
"When you have a husband, when you become a rain handler, your husband doesn't give permission. So before, during, and after the event, you are not allowed to have sex. But now you just keep on working," he explained.
"It must be in a holy state. When you become a rain handler, you can't wear shoes. You have to touch the ground, you have to be one with nature," he continued.
In addition, Rara also informed the contents of the offerings used to stop the rain during the MotoGP competition.
"This uses hio, onions, and chilies. These hioes are broken into two short pieces that are stabbed into the shallots and the chilies continue to be plugged into the ground. This hio is a natural code, like SOS. The rest of the long incense is burned for the heat element," he added.
Rara said that being a rain handler cannot be done by anyone because it is a family hereditary factor.
"This is a tradition, grandfather can do it, and Rara has been a rain handler since she was 9 years old," he concluded.
(dis/and)