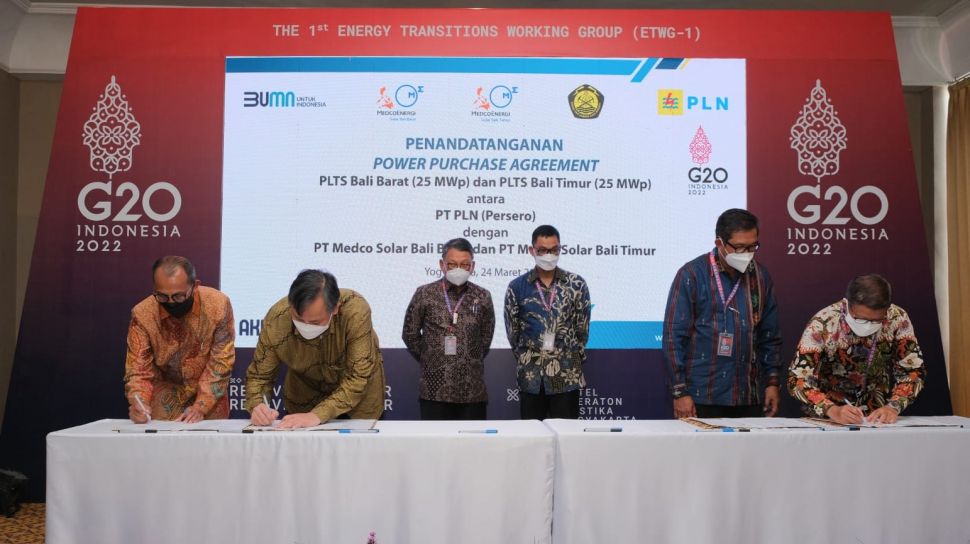 Suara.com – PT PLN (Persero) in the Energy Transition Working Group 1 (ETWG) forum immediately executed a tangible form of cooperation to accelerate the clean energy transition in the country. A total of four strategic partnerships with various parties were agreed on Thursday (24/3).
Minister of Energy, Resources and Minerals (ESDM) Arifin Tasrif acknowledged that the cooperation of various parties is needed to support the clean energy transition in Indonesia and achieve the Net Zero Emission target by 2060. The impact of climate change does not only have an impact on the climate but also on the economy. Thus, reducing emissions for a better climate is an important step that needs to be carried out together.
"The challenges ahead are technology and funding. What we can do to synergize nationally must continue to be developed. We also continue to expand international cooperation so that we can become leaders in this process," said Arifin.
Deputy Minister I of BUMN Pahala Masury explained that this strategic cooperation step was very important. The Ministry of SOEs strongly supports PLN to be able to build global emission reduction measures.
Also Read:
The G20 Delegation Uses Electric Vehicles and PLN's SPKLU During the ETWG-1 Forum
"It is hoped that various business model improvements and development of EBT implementation and carbon emission reductions can attract all parties to be able to cooperate with PLN," said Pahala.
PLN President Director Darmawan Prasodjo said through a strategic cooperation agreement to reduce global emissions as a symbol that NRE development is currently PLN's main focus. In developing NRE and implementing PLN's energy transition agenda, it opens up opportunities for cooperation with all parties.
"In the future, the development of EBT and efforts to reduce emissions will be the focus of all parties in reducing global emissions. This collaboration is a real commitment from the results of this first ETWG meeting," said Darmawan.
In this collaboration, it is a manifestation that PLN is open to partnerships. Darmawan explained, PLN really prioritizes fairness in this collaboration.
Darmawan detailed the four strategic cooperation agreements, namely the MoU for the Construction of a Public Electric Vehicle Charging Station (SPKLU) with the Association of State-Owned Banks or Himbara, which consists of Bank Mandiri, BRI, BNI, and BTN.
Also Read:
PLN, Energy Swap, Smoot and Grab Collaborate to Build an Electric Vehicle Ecosystem
Second, PLN has also entered into a Power Purchase Agreement (PPA) for two projects, namely the development of PLTS in Bali with Medco Power and also the development of the 5.4 MW Kukusan-2 PLTM in Lampung with Arkora Energi Baru. PLN also conducted a Financial Close of the Sukarame PLTM with a capacity of 7 MW in Lampung by Lampung Hydroenergy.