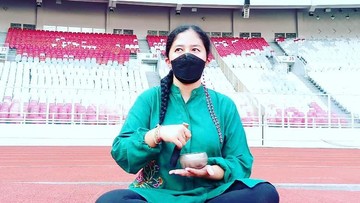 Newsdelivers.com, Insertlive –
The figure of rain handler Rara Istiati Wulandari is becoming a public conversation after the action to prevent rain at the 2022 MotoGP match in Mandalika, Lombok, West Nusa Tenggara.
Since the video of Mbak Rara doing her job as a rain handler, social media has been filled with news about her. Not a little to find out about the background and interesting biodata about this curly -haired woman.
Mbak Rara's real name is Raden Roro Istiati Wulandari and was born in Papua on October 22, 1983.
The 38-year-old woman lives in Bali. He is an indigo since childhood and has the ability to read tarot cards.
His special talent began to be known by his father who was always close to him. Several reports stated that Mbak Rara adhered to the kejawen belief.
Mbak Rara has a unique ritual or way of refusing rain. In his action at the Mandalika MotoGP, he was seen carrying a golden bowl and chanting special spells.
In addition, Mbak Rara should not be hungry while carrying out the procession to ward off the rain. He also abstains from eating meat from four-legged animals.
Mbak Rara is a professional rain handler, she has been in charge of controlling rain at various major events in Indonesia, such as mass vaccination events, President Jokowi's campaign, and the opening of the 2018 Asian Games.
(KHS/syf)