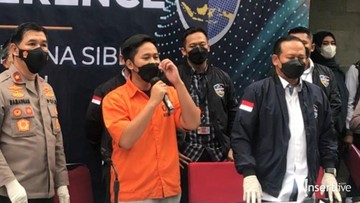 Newsdelivers.com, Insertlive –
Gigi Ruwati responds to the gesture of her ex-husband Doni Salmanan when he apologizes in public.
Doni Salmanan's wimpy style when apologizing to the public on Tuesday (15/3) made the public crowded with blasphemy.
When apologizing in public, Doni Salmanan relaxed with his hands tucked into his trouser pockets.
The man nicknamed crazy rich Bandung even continues to smile.
However, according to Gigi, this is a form of nervousness because basically her ex-husband does have a cheerful attitude despite facing problems.
"Maybe because he's nervous this time, he's more confused, more nervous, I think. Actually, he's a cheerful person, whatever the problem, he's still smiling, relaxed, cheerful," Gigi said at the event. Rumpi Trans TV, Tuesday (22/3).
Gigi Ruwati added that Doni Salmanan remained the same even though he had lost the game trading.
"More cheerful maybe yes, he lost trading it's okay, just smile. He (the type) likes to keep his feelings to himself, so if he is not strong, then he will say it," he concluded.
(Dec/Dec)