Suara.com – As the world's largest producer of palm cooking oil, Indonesia has experienced the irony of rising and rare packaged cooking oil on the market, which has caused many families to scream.
Interestingly, after President Jokowi abolished the regulation on the highest retail price or HET for packaged cooking oil on the market, the stock of jutsu was abundant in the market but the price immediately jumped dramatically.
So, what is the actual condition of palm cooking oil production in Indonesia? What causes high oil prices in the market? Then are there any other oil alternatives, apart from using palm oil for market needs?
Some time ago Suara.com had the opportunity to conduct a special interview with the research team at the Ministry of Agriculture's Research Center for Palm Crops (Balit Palma Kementan) located in Manado, North Sulawesi, in particular talking with the Principal Researcher, Barlina Rindengan to discuss this cooking oil issue.
Also Read:
Megawati Suggests Boiled Food, Mothers: That's Not The Problem, Why Is Cooking Oil Expensive Ma'am!
Here is an excerpt of a conversation with Barlina rewritten in a question -and -answer interview:
The scarcity of cooking oil in the market, is it caused by the declining production in the country, especially since Indonesia is one of the largest palm oil producing countries in the world?
So actually, our palm oil production is actually too much for domestic needs.
If it's a rare problem, it's a distribution problem. In terms of production, our domestic demand for oil is excessive, we don't know how to distribute it. From the producer's point of view, there is no problem. There are 165 palm oil mills in Indonesia.
Because the price of packaged cooking oil from palm has skyrocketed, making it difficult for Indonesian families to cook. Actually, is there any other alternative oil that can be used?
Also Read:
Facts about the Cooking Oil Mafia Revealed by the Minister of Trade Muhammad Lutfi
So if you want to choose another vegetable oil, we initially consume cooking oil from coconut, not palm. But that was the 1990s. After that people started to get used to palm oil.
But in terms of price, for now, coconut oil is expensive, compared to palm oil, which is only Rp. 14 thousand.
Moreover, coconut oil is suitable for frying, because it is high in saturated fatty acids, so it is not easy to oxidize, it's just that people prefer cheap than healthy.
Look for a cheap one, not looking for something that can sustain him after consuming.
So if you want to say other alternatives actually exist. So coconuts are spread throughout Indonesia, if palm oil is only in certain provinces.
If there is coconut in every village, when each village forms a group to process it into cooking oil, overcoming the current scarcity of cooking oil, it can be done if there is a will.
It's just that Indonesian consumers want the existing ones, don't want to bother producing their own.
In fact, if we go back to the 90s we make cooking oil from coconut itself, not from palm oil, because there was no time at that time, it was still developing.
If other oils from the West, such as soybean oil, corn oil, sunflower seed oil, it is not suitable for frying because it is high in unsaturated fatty acids, oxidizes very quickly, so it is only suitable for frying.
So when making a stir fry for a while in the pan, while frying for hours. If you use cooking oil which is high in saturated fatty acids, oxidation has occurred which causes a lot of free radicals, causing cancer.
Alternatives exist but are expensive, while consumers don't want expensive ones, they want cheap ones because of subsidies, maybe.
If coconut oil can be an alternative, how many times is it ideal for coconut and palm cooking oil to be used for frying?
Actually it depends on the material we fry. If we fry fish, even if we use coconut oil, it turns brown very quickly, because the composition of the food ingredients decomposes in the oil, eventually the oil turns brown.
But if you fry chips or potatoes, it's still good to use up to 3 to 4 times.
That's coconut oil, because saturated fatty acids are high in oxidation resistance, compared to oils that are high in unsaturated fatty acids.
But now people say high saturated fatty acids cause cholesterol, let's see which saturated fatty acids are, if coconut is classified as medium.
Meanwhile, palm oil has higher unsaturated fatty acids than coconut oil.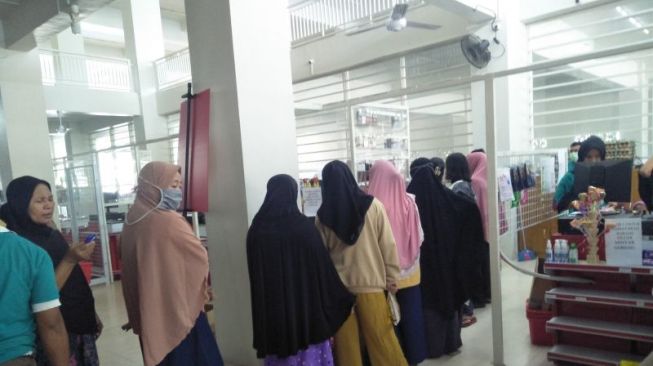 Due to the scarcity and high cost of packaged cooking oil, many people have switched to using bulk oil. Actually, what is the difference between bulk oil and packaged oil from the factory?
The difference is only in how many times it is filtered, if the bulk oil is filtered only 1 time, if the packaged oil is filtered up to 2 times it becomes clearer.
This clearer oil, not this reddish, does it affect the nutrition?
If palm oil has a lot of carotene, which is a little red, actually carotene is important in health, so if it is red or slightly brown, it is actually healthier.
Carotene is the forerunner of vitamin A, so if people understand using a slightly red oil, that's okay too, because there are many pros of vitamin A.
Due to the high price, there are many counterfeiting bulk cooking oil. Actually, is there a special feature of mixed cooking oil or adulterated cooking oil?
If it is mixed with water, it will not mix with the oil, unless the water uses dye. But this means that he has to use a lot of dye, he needs how much dye.
They say cooking oil can be used several times for frying, any tips for storing it or not?
For the next use, we have to filter it first, because the food is soluble in oil, it must be filtered, cooled in a bottle with a closed lid, so that there is no direct contact with the air.
This is important, because cooking oil also absorbs moisture, and can make it oxidize more quickly and increase its moisture.
So if it is stored and closed tightly, it is still good to use. But if it is not tightly closed it will increase the water content and free fatty acids.
Some people think that the quality of cooking oil in Indonesia is worse than foreign oil like that used in Europe, isn't that right?
Maybe consumers are too consider foreign products are considered the best, so far. Even though like jeans made in Bandung, they were sent to America, but were sent back to Indonesia.
Think of it from America even though the product is better than Indonesia, people choose from abroad even though the quality is the same, and that's how our consumers are.
For me, for frying, I chose coconut cooking oil, and the oil circulating in Indonesia has SNI and is not inferior to oil outside.
Is it true that Indonesia is the largest country in the world as a producer of palm cooking oil?
If it is palm oil, yes, we are the largest currently with 49 million tons of palm oil production, if coconut is already the Philippines, the largest coconut oil producer
Just like palm oil consumers, we are also the biggest?
Yes, number 1, production number 1, consumption number 1, especially with the G20, we will consume more later.
Mom said earlier that we can make coconut cooking oil at home without complicated tools, can you share it, ma'am, tips on how to make it?
It's easy, just take an old coconut in front of the house if you have a tree. Then this coconut is grated, after being grated it is made into coconut milk.
This coconut milk is then heated on a frying pan, then stir gently, until the water evaporates and the remaining pulp and oil are left. This oil is called coconut oil and can be used for frying or other cooking purposes.