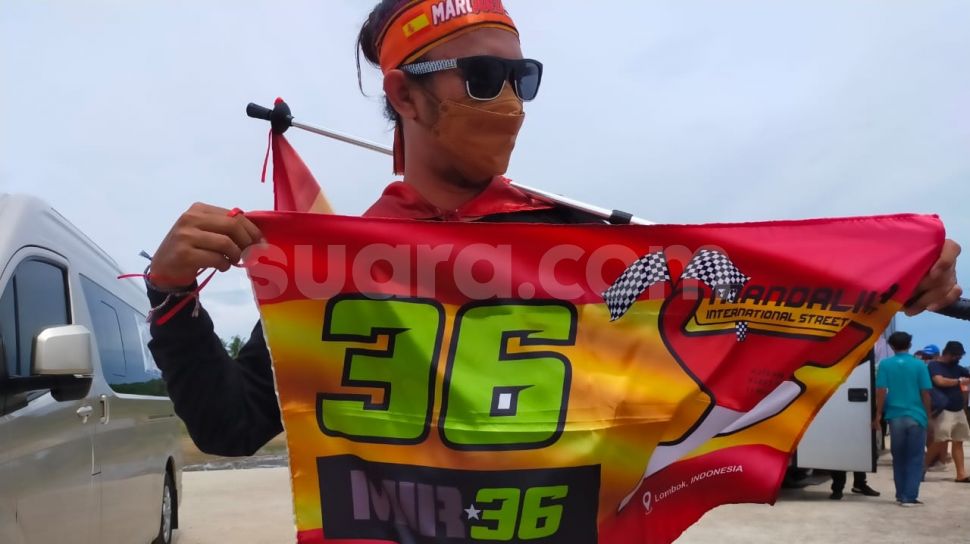 Suara.com – The presence of the 2022 Mandalika MotoGP event opens seasonal or impromptu business opportunities for Syahri, a young man from the capital city of Jakarta who opens a stall at the Mandalika Circuit.
This man in his late 20s held his wares in front of the Mandalika Experience exhibition tent. Near the shuttle bus terminal to the circuit. At first glance, you can guess wrong, because his appearance is like a tour leader. A profession that is often found in events of the caliber of MotoGP or world-scale racing events, by carrying or flying a flag, as well as a headband and protective sunglasses from the hot sun in the Kuta area, Mandalika.
The merchandise is exciting, headbands and flags bearing the names of the 2022 MotoGP riders and motorbike numbers.
"Like today, I'm promoting with a headband that says Marc Marquez and a flag that says Joan Mir," he explained.
Also Read:
2017 Moto3 World Champion, Until Now Joan Mir Doesn't Have A General SIM
"Because I like both of them, so I'm sorry that the writing on the headband and the flag doesn't match," he said.
Made on glossy cloth and printed or printed, the two kinds of merchandise are priced varying between Rp. 30,000 – Rp. 100,000.
Special flags can be tied or held to be used as a sign of the gathering location because usually the audience comes in group formation.
From Jakarta, Syahri traveled by sea to Lombok. It's far, but for the sake of the MotoGP he loves.
Also Read:
About the Grip on the Asphalt of the Mandalika Circuit, Joan Mir says it takes time
"Starting in the morning until noon, usually around 20 pieces. It's also exciting that buyers come from anywhere, with a variety of favorite riders. It's not limited to Marc Marquez or the top names. Fortunately, it's also not limited to certain names," said the man who successfully pocketed tickets to watch MotoGP Mandalika 2022.