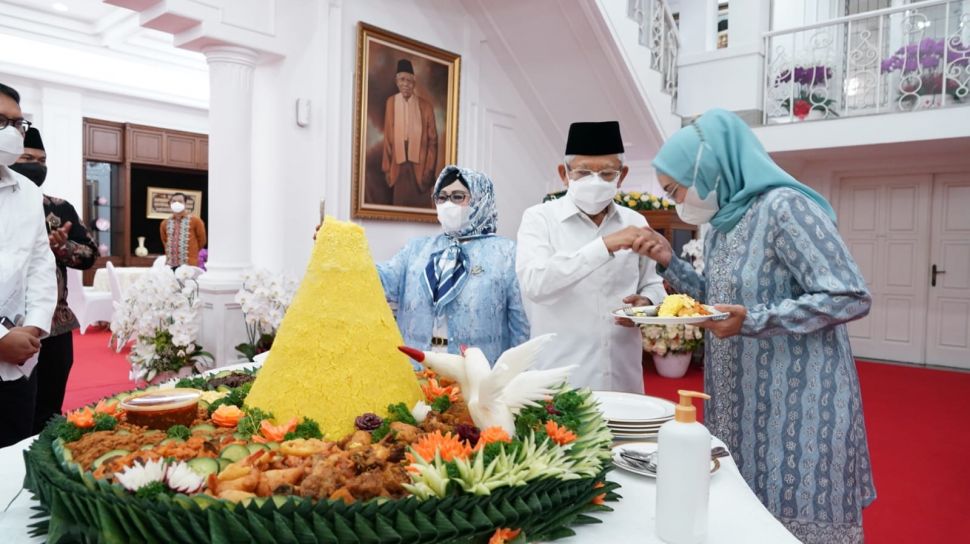 Suara.com – Vice President Maruf Amin is celebrating his 79th birthday on Friday (11/3/2022). On his special day, Maruf conveyed his advice that the blessings of life are more important than the length of life.
Unbeknownst to him, the entire family and staff of the Vice President's Secretariat gave a surprise simple prayer ceremony at the Vice President's Official Residence, Central Jakarta. On that occasion, Maruf looked happy and expressed his gratitude for the surprise on his birthday.
After cutting the tumpeng, Maruf had given advice that the most important thing in life is not the length or shortness of life but the blessings.
"It's true that if you count from the day I was born, my age has increased. Today the count has increased to 79 years. But from the age allotment that has been given, it is reduced. From day to day less and less, the quota will eventually run out. Therefore, actually increasing or decreasing age is not that important, the important thing is the blessing, "said Maruf.
Also Read:
Maruf Amin Bans Entrepreneurs from Exporting Basic Needs While Domestic Needs Are Not Fulfilled
Therefore, he continued, the prayer that must be said by mankind is to be given a blessed life.
"Our prayer is to be given a blessed life. It may not be long, but the benefits are many. It's even better if you are given a long life then there are also many good things," he said.
This, said Maruf, as the Prophet Muhammad SAW said that the best of people are those who have a long life and good deeds.
"But on the other hand, the wretched man is the one who is given a long life but his deeds are not good. So it took him a long time to make mischief on this earth. That is very dangerous," he said.
Furthermore, Maruf said that the blessing came from Allah SWT, but his arrival did not come suddenly, but needed to be worked on.
Also Read:
Vice President Maruf Amin Says KH Miftachul Akhyar Hasn't Final Resigned From MUI Chair
"We must strive to get that blessing, that is, by continuing to draw closer to God, ber-taqarrub to God in order to get the blessing of life," he advised.