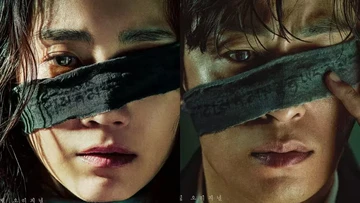 Newsdelivers.com, Insertlive –
The latest Korean horror drama poster titled Monstrous (literal title) was released on Monday (7/3).
The two posters released show the two main actors of this drama, Shin Hyun Been and Goo Kyo Hwan, looking teary with pieces of cloth covering one eye each.
The shape of the Buddha statue is visible in their dark eyes. The bright glint in their pupils attracts attention and raises questions about who or what they are looking at.
Scraps of worn cloth with mysterious faded letters written in an unknown language also raise curiosity about what terrifying power seduces them.
"Whoever sees the eye will be trapped in hell", the sound of writing in a poster.
Monstrous is about people who are lured by the curse of 'that thing' that shouldn't have appeared into the world and tells the story of archaeologists chasing unheard of gruesome cases.
When a village is swept away by disaster with the discovery of a statue of a mysteriously possessed Buddha, the confusion of the people who face a strange terror and the process of pursuing it is said to be giving the audience great tension.
This drama was written by director Yeon Sang Ho, who previously worked on Train to Busan and Peninsula who collaborated with writer Ryu Yong Jae, who wrote Pied Piper and My Holo Love.
The film was directed by Jang Gun Jae, who won Best Screenplay at the 16th Busan Film Critics Awards and Best Director and Best Screenplay at the 3rd Wildflower Film Awards through the film A Midsummer's Fantasia.
Goo Kyo Hwan plays the eccentric archaeologist Jung Ki Hoon who researches strange supernatural phenomena. In the middle of running an occult YouTube channel titled Monthly Ghost Stories, he encounters a strange and unbelievable phenomenon while investigating a Buddha statue found in Jinyang County.
Shin Hyun Been plays a genius pattern cryptanalyst named Lee Soo Jin who ends up having to face a terrible disaster. After losing his only daughter, Lee Soo Jin gives up everything to return to Jinyang County where she begins to experience unexplained events.
Chemistry and the strong acting skills of these two actors are points that must be anticipated in this drama.
Monstrous will air exclusively on TVING starting April 2022.
(dia/fik)