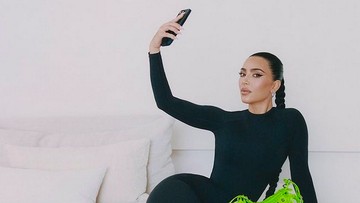 Newsdelivers.com, Insertlive –
Kim Kardashian again looks eccentric when attending the Paris Fashion Week 2022.
In an upload on the Instagram page, Kim showed off herself wearing a kind of black cuff interior that wraps around the curves of her body except for her neck and face.
Kim then decorated the cuffs with piles of yellow duct tape with the brand name Balenciaga printed on them.
Not only costumes with duct tape, Kim also adorns other accessories with the yellow duct tape.
How does Kim Kardashian look with a body full of duct tape?
(dis/syf)